Chelsea will consider selling Conor Gallagher this summer amid interest from Newcastle United, sources have told Nothing but Newcastle. 
What's the latest Newcastle United transfer news?
Newcastle, along with Everton and Crystal Palace, were keen on the England international during the January transfer window.
Still, Gallagher himself was eager to stay at Stamford Bridge, while Chelsea were unwilling to strengthen a rival in Newcastle. Hakim Ziyech was another target on Tyneside but the Blues instead attempted to move him on to PSG, though the move hit a late snag.
While Gallagher was not actively put up for sale last month, that may change this summer. After a huge January spend, Chelsea are under pressure to bring funds back into the club, particularly if they miss out on Champions League qualification.
Given most of the wealth in football is hoarded in England, selling abroad does not look like a particularly feasible possibility. As such, Chelsea could be forced into doing business with Premier League rivals, and Gallagher is seen as a sellable asset.
As a homegrown player, money raised by selling Gallagher would be banked as pure profit on their balance sheets, helping balance the frantic spending spree Chelsea have been on since May's takeover.
What is the latest on Newcastle and FFP?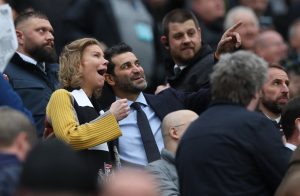 According to The Athletic, Newcastle are "at their limits" in what they can spend.
They suggest the £211m outlay on incomings in 2022, combined with the fact the club have not been able to raise much in the way of funds through player sales, has taken the spending to the limit for now, until new sponsorship deals have been finalised.
Still, with the likes of Jonjo Shelvey leaving, Chris Wood set for a permanent exit this summer and a raft of contracts up at the end of the season, perhaps there will soon be more wiggle room.