Eddie Howe has admitted to feeling responsible for Alexander Isak's huge price tag. 
What's the latest Newcastle United news?
On Friday, the club completed the club-record signing of the 22-year-old on a six-year deal for a fee believed to be in the region of £60m.
That blows the previous club record of £40m spent on Joelinton out of the water and takes Newcastle's spending to over £200m (via Transfermarkt) since October's takeover.
Naturally, the Sweden international will be expected to make an immediate impact for that kind of fee, though Isak certainly has time on his side. At only 22, the hope will be Howe can mould him into a top-level striker, capable of scoring the goals required to have Newcastle fighting towards the top end of the Premier League.
Still, no transfer is without risks.
Indeed, the likes of Guillem Balague and European football expert Andy Brassell have suggested for the club have overpaid for Isak, who scored only six LaLiga goals last season.
What has Howe said about the transfer?
Speaking ahead of Sunday's X at Wolves, Howe said (via the Independent): "I definitely feel a responsibility to the price, it certainly wouldn't be a case of signing a player at any cost. I don't think that's the right way to act.
"It's an incredible market and I could never sit and say I think it's value for money just with the price. But when you look at the market, I think it's a good deal for us, otherwise I wouldn't have been pushing hard to try to do it.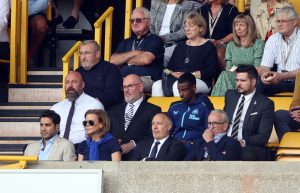 "Transfer prices are out of any type of realism from when I was playing, but you just have to adapt to the times. If you don't adapt to the times and go with it, then you don't improve."
Does it matter if Newcastle overpaid for Isak?
If there's one thing that the new owners have proven during their short time on Tyneside, it's that they are not in the business of writing blank cheques merely for the sake it.
Jesse Lingard's wage demands were baulked at, while the club are also understood to have walked away from deals for the likes of Hugo Ekitike and James Maddison when demands from either agents or selling clubs became too much.
So, to have paid so much for Isak hints at a huge level of trust in the player. Though to have been tracked for a number of months, they've waited for the right deal at the right time and while the initial fee might seem high, perhaps a comparison can be drawn with Liverpool's pursuit of Virgil van Dijk.
Jurgen Klopp sanctioned a £75m deal for the Dutchman in January 2018 after failing to land him from Southampton the previous summer, a fee that seemed incredibly high at the time but has since been repaid amid all of their success. Now, that's not to suggest Isak will have a similarly transformative impact on Newcastle, but it does at least set a precedent.
Newcastle are paying for Isak at 28 as much as they are at 22. If they mould him into a leading Premier League football, and the joined up thinking recruitment staff have displayed so far would suggest the club truly feel they can do so, then the initial money spent will be of little concern.
No transfer is without risks but the work done at Newcastle so far does afford them a level of trust.