Luke Edwards has revealed what is holding Newcastle United back in the transfer market this summer. 
What's the latest Newcastle United transfer news?
Amid all the frustration over the likes of Sven Botman and Hugo Ekitke, it's easy to forget Newcastle have actually completed two deals this summer.
Granted, the fact Matt Targett spent the back end of last season on loan might not make his permanent arrival a particularly exciting prospect heading into the next one, but that is solely a matter of optics. The 26-year-old played a huge role in helping Newcastle push up the division and it'll be interesting to see how he develops under Eddie Howe across a full campaign.
Nick Pope, meanwhile, represents a relative snip at a reported £10m. An England international with years ahead of him, the 30-year-old looks a huge upgrade on Karl Darlow and Freddie Woodman in the battle for a starting berth with Martin Dubravka.
Naturally, given the nature of Newcastle's backing, more is going to be expected. Heralded as the "richest team in the world", the early part of the PIF era has not been defined by the kind of big spending seen at Manchester City and Paris Saint-Germain in the opening stages of their new eras, although there is clearly going to be an expectation that will one day happen.
So, what's holding Newcastle back?
According to Edwards, FFP remains a "major hindrance" and that Newcastle simply cannot match the level of City or PSG "until new sponsors come in".
Taking to Twitter, the Daily Telegraph journalist wrote: "#nufc transfer business is smart so far but not extravagant. Been saying for months they're not to spend lavishly in transfer market or on wages yet.
"FFP is a major hindrance without new sponsorship deals of which there are still none. They are being clever with what they have.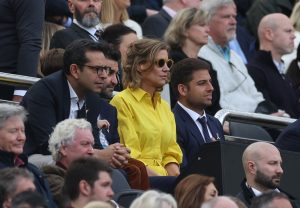 "Most sensible fans know that this is a long term project. It's not another Man City or PSG. It could be further down line, but until new sponsors come in #nufc won't be on that level. If you want a comparison it's more like a Leicester at this stage.
"That's a good thing."
What has Howe said about the FFP situation?
Even before the end of last season, Howe admitted FFP was a concern.
Back in May, the head coach said: "FFP does impact what we can do in the summer but it doesn't mean we're totally without ambition. We're well aware that we have to change the squad and we have to make improvements but it's going to be a difficult balance."