Jeremy Corbyn opted to respond to Newcastle United making an official club statement about him by simply saying thanks for quoting his comments.
The Magpies issued a long-statement, via their official website, to reveal the club were unhappy that the Labour leader had "accused 'billionaire owners like Mike Ashley' of 'ruining our national game'" and encouraged him to check out the work the club had done with the community through Newcastle United Foundation.
Corbyn seemed unfazed by the Magpies' statement and took to his verified Twitter account shortly after simply to say thanks for reiterating what he has previously said.
"Thanks to @NUFC for quoting my comments about how 'billionaire owners like Mike Ashley' are 'ruining our national game'," wrote the politician.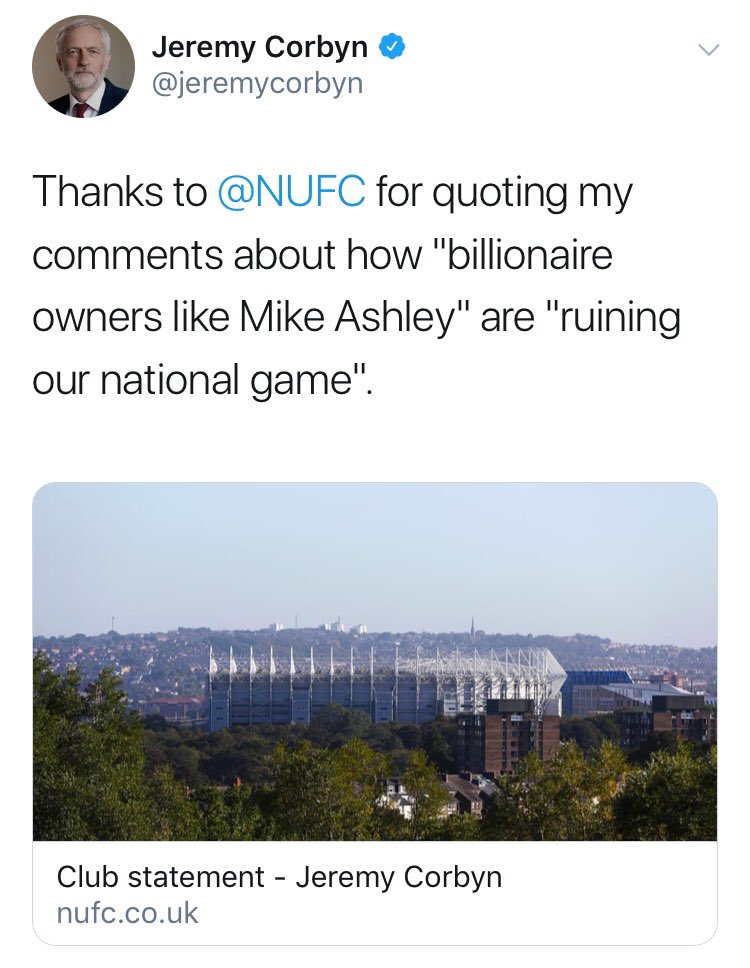 OPINION
There is so much shade in Corbyn's brief tweet, it feels like this story isn't over. Corbyn casually used Newcastle as an example of how there are clubs run by owners who put their "business interests" before anything else, and you can easily tell that Magpies owner Mike Ashley didn't like this sort of attention. After all, it's quite rare to see an official club statement on a non-footballing matter. While the statement isn't directly penned by or credited to Ashley, it would be very shocking if this reaction to Corbyn's remarks didn't come directly from him, as after all the Labour leader directed his comments straight at the businessman rather than the club itself. While the Magpies' official response tried to defend Ashley, it said the businessman has not taken a penny out of Newcastle United in interest, salary or dividend, and used the Newcastle United Foundation's fantastic work with the community, there's no denying Magpies supporters have a similar view of Ashley as Corbyn. After all, a large number of Newcastle fans took to Twitter to cheer Corbyn on, so clearly they'll be hoping that the Labour leader is a man of his word and that if he gets any form of power that he'll put laws in place that protect football clubs from bad owners.