Dan Burn has stressed Newcastle United's approach against the top teams is fully justified. 
What's the latest Newcastle United news?
Eddie Howe's side became the first English team to stop Premier League leaders Arsenal from scoring on Tuesday night and claimed a creditable point at the Emirates Stadium to continue their strong record against the top six.
Only Liverpool have beaten Newcastle this season and even that came in controversial circumstances. Still, even despite Fabio Carvalho's late winner at Anfield back in August, Howe's team were impressive on Merseyside and their performance against Arsenal certainly can draw comparison.
Mikel Arteta was visibly angry when the fourth official held up the board to indicate five minutes of added time, presumably because of perceived time wasting, something Jurgen Klopp spoke about following the dramatic loss to his team.
Still, Burn believes Newcastle have to frustrate the leading teams and are well within their rights to do so.
What has Burn said about the Arsenal game? 
Speaking to Sky Sports (via the BBC's LIVE blog 21:54), Burn said: "We're believing in the philosophy. We're all working for each other and it was really important to get that clean sheet tonight.
"I think you've got to [frustrate them]. A lot of people expect you to let them win. There's a lot of ways to win a football game. We managed it well."
Is Burn right?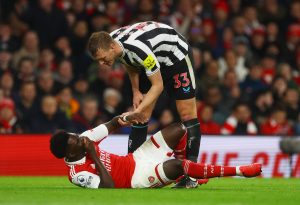 Absolutely.
While even the most ardent Newcastle supporter would surely admit there is something approaching the dark arts in their performances against Arsenal and Liverpool, that is not the only reason they are picking up points.
Indeed, though time wasting might be a slight element of it, the fact is that Howe's side limited an Arsenal team boasting one of Europe's most in-form attacks to only four shots on target, when previously they have been averaging almost six per game (via WhoScored). No one has conceded fewer goals than Howe's side (11) and six consecutive clean sheets has equaled a club record.
That does not happen purely as a result of time wasting and, even if it did, why should Newcastle make it easy for their opponents? They are fighting for the badge, fighting for Champions League football and fighting their way to the club's best season for two decades.