Former Newcastle United midfielder Dietmar Hamaan has urged Liverpool to make a move for Joelinton.
What's the latest Newcastle United news?
The Brazilian's turnaround in form has perhaps best exemplified Newcastle's rise under Eddie Howe.
Derided as a flop under Steve Bruce after failing to convince as a striker, a bit of coaching and some thought as to what a player of his profile would best fit, the 26-year-old has been reborn as a central midfielder.
A key figure in Howe's team and a player who would appear to have so much more to give, £40m now looks something of a bargain.
What has been said of Joelinton and Liverpool?
Speaking to Boyle Sports, Hamaan said: "I would like Liverpool to sign someone a bit more adventurous, someone like Joelinton from Newcastle who has a physical presence can get you a goal and he has the full package. A player like him would suit Liverpool down to the ground.
"I think getting a player of his quality in January is near enough impossible and that should've been done in the summer."
Does it make sense?
Absolutely, though that does not make it likely to happen.
At their best, Jurgen Klopp's Liverpool have been built on a high pressing system, swarming around teams and not giving them a moment to breath.
With Joelinton ranking amongst the leading 91% of central midfielders playing across Europe's big five leagues over the past year for tackles (2.82, via FBREF), blocks (1.81), clearances (1.91) and aerials won (2.86) per game, he'd certainly be a logical target to strengthen an area of their squad to have come under frequent criticism.
Still, the idea of them moving for the player seems hard to believe. Newcastle could feasibly qualify for the Champions League ahead of Klopp's side and are under little pressure to sell such a key player.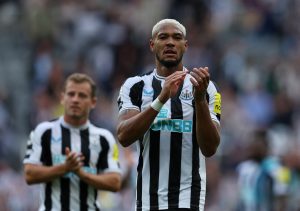 Even if a deal were to be done, Liverpool just don't seem like the kind of club willing to pay the money to tempt Newcastle. While there is little doubting their pull when at their best, their FSG owners have come under fire for a lack of investment in comparison to other leading clubs.
As Klopp said himself, Newcastle don't have a ceiling. It's hard to imagine they'd be willing to sell a key player to what could now be considered a positional rival.