Joelinton says Newcastle United are in the "best moment" of his time at the club.
What's the latest Newcastle United news?
Sitting fourth in the Premier League and with a great chance of staying there before the winter World Cup, all looks good at St James' Park right now.
Where last season was about fighting for merely survival, the club have stopped just existing. Now, they have been brought to life, and Eddie Howe's side boasting the kind of connection with the fans Newcastle teams of the past could only dream of.
While not to get too carried away, the team are fighting towards the top of the League having already played Tottenham, Manchester United, Manchester City and Liverpool. Were it not for some dubious VAR calls, such as the decision to rule out goals against Brighton and Crystal Palace, they could feasibly be even higher.
Even more impressively, all of this has come even with key players missing chunks of the campaign thus far, with Callum Wilson, Allan Saint-Maximin, Alexander Isak and Jonjo Shelvey all struck down to some degree.
It's not just the future that is bright at Newcastle United. The present is very much the place to be.
What has Joelinton said about Newcastle?
Speaking to Lance, Joelinton said: "We are living a great moment, and this is the result of a lot of work and dedication from everyone.
"The club has strengthened itself well for this season, we have a coach who knows the players well, and all the professionals who work on a daily basis at the club are also important. It's everyone's job. I arrived at Newcastle in 2019 and, for sure, this is the best moment we are living."
How key has Joelinton been?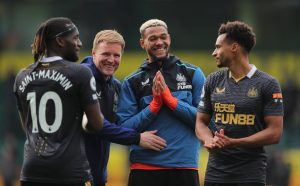 It's difficult to understate Joelinton's importance to the cause and his rebirth as a Newcastle player perhaps best typifies the journey the club have been on.
Derided as a flop under Steve Bruce, the 26-year-old's performance as a dynamic central midfielder have coincided with the revival. According to FBREF data, the former Hoffenheim star ranks among the leading 74% percent of midfielders playing across Europe's big five league over the past year for pressures (20.65), tackles (2.97), blocks (2.21), clearances (1.81) and aerials won (3.6) per game.
A colossal figure in midfield, Joelinton now looks a bargain for £40m.