Garang Kuol has played down suggestions he could be something of a wildcard for Australia at the 2022 World Cup in Qatar. 
What's the latest Newcastle United news?
Before the teenager officially signs for Newcastle in January, Kuol has the small matter of a World Cup to contend with. A surprise selection of sorts, the 18-year-old has not actually started a game for the Central Coast Mariners in the A-League this season, though has still managed to score two goals and register as many assists in four appearances from the bench.
Brought on against Dwight Yorke's Macarthur FC, Kuol scored twice and was subsequently talked up by the former Manchester United forward, who described him as "an exciting talent".
Harry Kewell, meanwhile, talked up his chances of making an impact against world champions France in the opening game.
"He's fearless. He's quick. And that's one thing that the defenders are scared of," he said (via The Daily Mail.)
"That's something that we could bring on the pitch – whether it's at the start or half-time or the last 10 minutes, it's something Graham's got at his disposal, and I just hope he uses it."
What has Kuol said about the World Cup?
Speaking on Friday, Kuol said (via the Mail): "I don't really pay attention to what's said around me
"I'm just really focused on what I do on the field in training and games.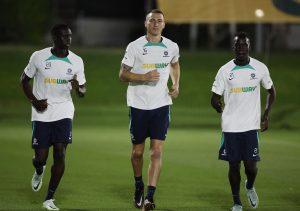 "If I'm not playing well, I'm not going to go and look at something online to cheer me up. What I look for is what makes me happy and what gives me that motivation to keep pushing forward."
Will Kuol start against France?
Given the fact Kuol has only played 17 minutes of international football, it would be quite a shock to start him in the opening game against the team defending their World Cup crown.
Still, Australia have little to lose against the French, who are missing some key players through injury themselves. Either way, Kuol has proven he can make an impact when called upon thus far, albeit with the caveat that the A-League is an entirely different beat to the World Cup, and is certainly there on merit.
Should he make any kind of impact at all, the future could be very bright indeed for Newcastle.