OPINION
Newcastle United picked up a memorable 1-0 win over Manchester United on Sunday and there were a few reasons to be particularly cheery.
For example, Andy Carroll, Allan Saint-Maximin, Sean Longstaff and of course the goal-scoring Premier League debutant Matty Longstaff all showed positive enough signs to suggest the Magpies could build on their win against Manchester United once domestic football returns after the international break.
However, there is another Newcastle player who clearly can be an asset to Magpies boss Steve Bruce based on Sunday's game and this ace wasn't even on the pitch.
Sun journalist David Coverdale revealed on Twitter that he noticed the currently injured Matt Ritchie barking orders at the Magpies' players from the sidelines and showing the same passion he shows on the pitch.
"Matt Ritchie was sat in the row in front of me during that. Showed the same passion as he does on the pitch," wrote the journalist.
"Kicked every ball and was barking orders at the players. Great to see."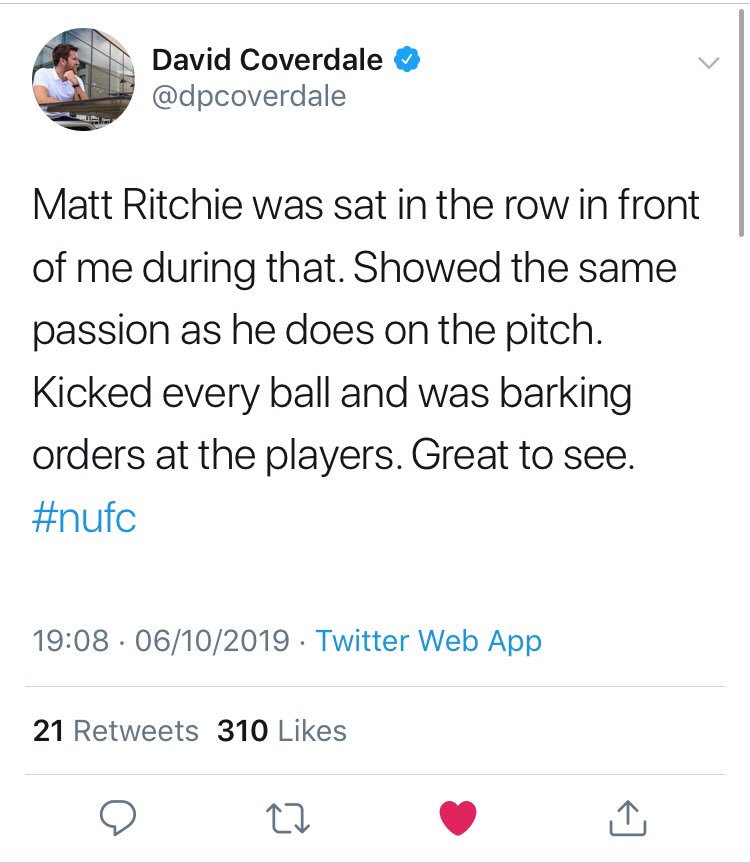 The 30-year-old Magpies winger who can be deployed as a left-back, played three times in the league this season before getting injured and submitted the solid no-nonsense hard-working performances you expect.
Ritchie averaged two tackles, 1.7 interceptions and 2.3 key passes per match across his league outings, showing he's effective at both ends of the pitch, but it's not his skills on the pitch the Magpies directly miss. (Source: WhoScored)
While the Magpies got the win on Sunday, their performance wasn't perfect especially their lacklustre first-half display, and an injection of passion would have made the world of difference as it's worth noting Carroll lifting the crowd seemed to up his side's performance when he came on during Sunday's game.
So why wouldn't Ritchie barking orders and oozing passion have a similar effect?
Bruce accused his Magpies squad of surrendering and lacking effort during the 5-0 loss to Leicester City, as reported by BBC Sport, but a player like Ritchie would ensure a similar performance didn't happen again, especially as he is the type of player who is fired up even when not playing based on Coverdale's tweet.
So with that in mind, it's clear the veteran can be an asset to Bruce and hopefully he is back fit again soon as it was disappointing to hear near the end of September that he had suffered a setback in his road to recovery (Source: The Shield Gazette).