Callum Wilson joins Newcastle United teammates Nick Pope and Kieran Trippier on Gareth Southgate's 55-player shortlist ahead of the 2022 World Cup in Qatar, sources have told Nothing but Newcastle.
What's the latest Newcastle United news?
Last capped in 2019, Wilson is one of a number of strikers looking to make a late play before Southgate names his 26-player squad on November 10.
With Jamie Vardy retiring from England duty after the 2018 World Cup and Euro 2020 back-up Dominic Calvert-Lewin having struggled with injury since, there appears to be an opening. While Harry Kane can reasonably be expected to play when fit, the options behind him aren't exactly established.
Marcus Rashford might be coming into form now but hardly enjoyed the best run of form last season, while Tammy Abraham has scored only twice in 12 appearances for Roma this time out, albeit after a prolific campaign last season. Ivan Toney, meanwhile, was called up into Southgate's last UEFA Nations League squad but did not play.
Fit and firing once more, Wilson scored twice in front of the England manager during Saturday's 4-0 win over Aston Villa.
Pope and Trippier, meanwhile, are far more likely to feature in the final list, having been prominent figures in Southgate's squad over the past few years.
What has Wilson said about the World Cup?
Speaking to Sky Sports before the Villa game, Wilson said: "I don't doubt my ability whatsoever.
"I think I offer something different to the other strikers, I don't think there's anyone who would run in-behind like myself and stretch the game. I think if you're a coach or manager, you'd want different kinds of players that can play in different games.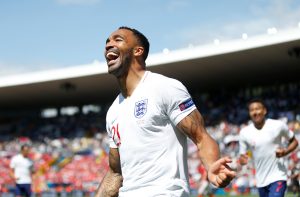 "Harry [Kane] is an unbelievable player, so that's not to say 'yeah you're going to go to the World Cup and play'.
"For me, the experience of it, being there, being able to kind of push Harry but also show the manager I'm ready at the end of the day.
"I've been focusing on my Newcastle performances because ultimately that's what will get you in that shop window."