Eddie Howe is a name admired by the FA as they consider life after Gareth Southgate, sources have told Nothing but Newcastle. 
What's the latest Newcastle United news?
While Gareth Southgate will lead England into the third major international tournament of his tenure at this winter's World Cup, few would doubt the mood has turned of late.
The 52-year-old himself has admitted that merely having a contract running until 2024 is not enough to see him stay in the job after a dismal run of form in 2022, with an England team previously celebrated booed off at times this year. Clearly, Southgate will be in charge in Qatar, though the future after that is unclear, particularly if his team do not impress.
Sources have told NBN that Howe and Graham Potter are admired by top brass at the FA, though both look unattainable. The Newcastle manager recently signed a new long-term deal at St James' Park and has been backed for a long reign by the club's directors, while Potter was only appointed at Chelsea on a five-year contract earlier this month.
Who else is on the shortlist?
Frank Lampard and Steven Gerrard are thought to be a couple of the names on the radar, albeit neither of them boast the kind of track-records on the respective CVs of Howe and Potter.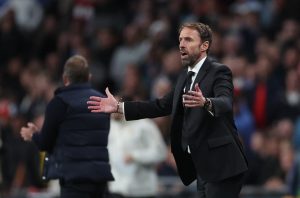 Indeed, it's become increasingly rare to see top managers leave the club game for the international sphere of late. Luis Enrique, Hansi Flick and Antonio Conte have managed their countries, though those appointments came when all three were out of jobs. Ronald Koeman, meanwhile, left his post in charge of the Netherlands when Barcelona came calling.
What has been said about Howe and England?
Speaking back in March, former Newcastle and England defender Jonathan Woodgate backed Howe for the England job at some point in his career.
"I think when he first went in [to Newcastle], it wasn't easy. He had a transfer window which helped," Woodgate told Genting Casino (via The Mirror).
"He's got good players and he got good characters in. And he's done an exceptional job, unbeaten for eight games, which in the Premier League is really difficult to do.
"He's turned the club around and I hope they stick with him for as long as they can because he's an exceptional young English manager who one day will manage England in my view. I think he's that good."