Eddie Howe has admitted one of Newcastle United's goalkeepers may yet leave this summer. 
What's the latest Newcastle United transfer news?
With Nick Pope having been selected for Saturday's Premier League opener win against Nottingham Forest, it is surely safe to assume the England international will be first-choice this season.
While it's clearly good to have competition, as well as options in the squad to cover potential absences, it's difficult to see anyone overtaking the 30-year-old.
Hardly injured in the last few years and likely to be Jordan Pickford's back-up at the World Cup this winter (thereby sitting out most of England's games), there would appear to be little need to drop Pope barring an almighty collapse in form.
With that in mind, as well as the fact Newcastle need to sell to raise further funds amid FFP concerns, having three options behind Pope does seem excessive.
What did Eddie Howe say about players leaving?
Speaking after the Forest game, Howe said (via The Northern Echo): "I certainly wouldn't want anyone to leave, but I'm well aware that four (keepers) is a difficult number to carry.
"My wish would be to do that, but obviously we've got to think of the players as well. Hopefully, we'll make the right decision."
Who should Newcastle sell?
Ideally, Newcastle would have the strongest squad possible this season, which would surely mean Mark Gillespie leaving the club given the 30-year-old has played the majority of his career in League Two and is yet to experience the Premier League.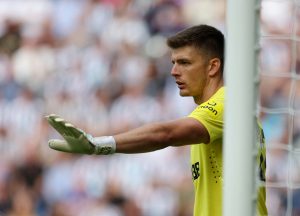 Still, getting much of a fee for Gillespie would prove difficult, with only a year left on his contract after rarely featuring in recent years. Karl Darlow, meanwhile, has constantly been linked with a move to Championship sides, although his wages are said to have been a concern for teams in the second-tier.
With that in mind, Martin Dubarvka looks the most sellable asset. Proven in the Premier League and linked with Leicester City, the 33-year-old's agent has even hinted he could look to leave following Pope's arrival.
Dubravka might be the best back-up available to Howe, but he's the one surely likely to attract the most interest.