Pep Guardiola hailed Newcastle United as one of the examples as to why the Premier League is the most competitive in Europe. 
What's the latest Newcastle United news?
Sunday saw Eddie Howe's side put in a hugely impressive performance against one of English football's all-time great teams. Where Manchester City romped to a 5-0 victory over Newcastle in May, the home side went toe-to-toe with the champions and caused all manner of problems in what was a major statement.
Indeed, this was not a backs-to-wall-job. This was a Newcastle side playing on the front-foot, with aggression and purpose, as well as boasting the quality to hurt one of the world's leading teams.
Having dispatched Arsenal with ease during the final home game of last season, Newcastle are truly making St James' Park a fortress. To push a side as good as City all the way shows just how far this team have come in the last few months, with Guardiola particularly impressed.
What did Guardiola say about Newcastle?
Speaking to Sky Sports after the game, Guardiola said: "The Premier League is so difficult for everyone, and we know that we have to live this kind of experience to realise how amazing we have done the last five years and how difficult will be if want to continue.
"Newcastle are becoming one of the toughest opponents for sure, their quality is very strong."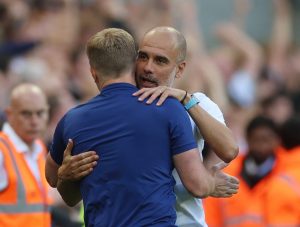 Interestingly, the result came on the same weekend Bayern Munich and Paris Saint-Germain romped to big domestic victories. While constant talk about how good the Premier League is can often grate – particularly with Spanish teams largely dominating European competition at times – it's difficult to put any other League on the same pedestal as things stand.
Newcastle have nothing to fear. If they can do this to City at a relatively early stage of their new era, it's going to be fascinating to see what happens in the years to come.