Alan Shearer has suggested Newcastle United could have made it more difficult for themselves heading into next season. 
What's the latest Newcastle United transfer news?
The back end to last season was one of the most thrilling runs Newcastle have been on in modern history.
Seemingly cut adrift after going winless in their first 14 games, Eddie Howe's appointment proved transformative, with the head coach yielding impressive performances from the previously disappointing team even before the January transfer window.
Of course, many will point to the money spent at the turn of the year and, certainly, it's hard to imagine another side battling relegation being able to attract the likes of Kieran Trippier and Bruno Guimaraes to the club, but that does not tell the whole story.
It was the improvements of Joelinton, Ryan Fraser, Fabian Schar and Joe Willock (to name only a few) that really spoke to Howe's impact. Far from just a chequebook manager on Tyenside thus far, the challenge will now be able to keep that across a whole campaign.
Still, it's important to be realistic.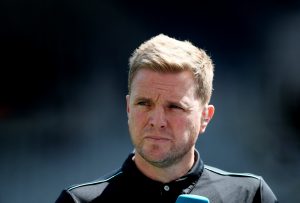 The club won 12 of their last 18 games. That kind of form over a whole season would surely have them pushing for the Champions League places at least and to expect that again next time out would be asking an awful lot. Clearly, there needs to be progression and ambition, but it's important not to get carried away.
That's no reason to feel down about next season at all. It's going to be hugely exciting and little about Howe's work has suggested he's not up for that challenge but this is a long-term project and that must be taken into account.
It's a nice problem to have after so long in the doldrums.
What did Shearer say about next season?
Speaking to Sky Sports, the 51-year-old said: "They've got to try and carry on the good work from last season.
"They might have made it more difficult for themselves because of what they did and because of the expectations now and also with the money Newcastle have spent and hopefully continue to spend to make them bigger and improve."
What has Howe said about next season?
Speaking before the end of the season in May, the head coach said (via The Chronicle): "I want my squad to be confident, ambitious. They have to believe in big things and we have to set targets internally.
"I'd rather it stay internal than external because we have to also manage the expectation around the team. We don't want them to play under an unnecessary burden and an unnecessary pressure that actually hampers our performance. Creating that mix is important, but I'd much prefer to keep things in-house."