Louis Saha appeared to suggest he felt more allegiance to Newcastle United rather than Sunderland despite playing more times for The Black Cats.
The former Magpies and Sunderland striker was asked by a fan during an interview for Four Four Two who he currently felt more allegiance to out of the two North East clubs.
Saha explained that he had a better experience at Newcastle as he didn't like what happened to him at Sunderland in terms of chances.
"I had a better experience at Newcastle," said Saha in issue 307 of Four Four Two (December 2019, page 11).
"I didn't play at Sunderland – I didn't like what happened to me in terms of chances I had there."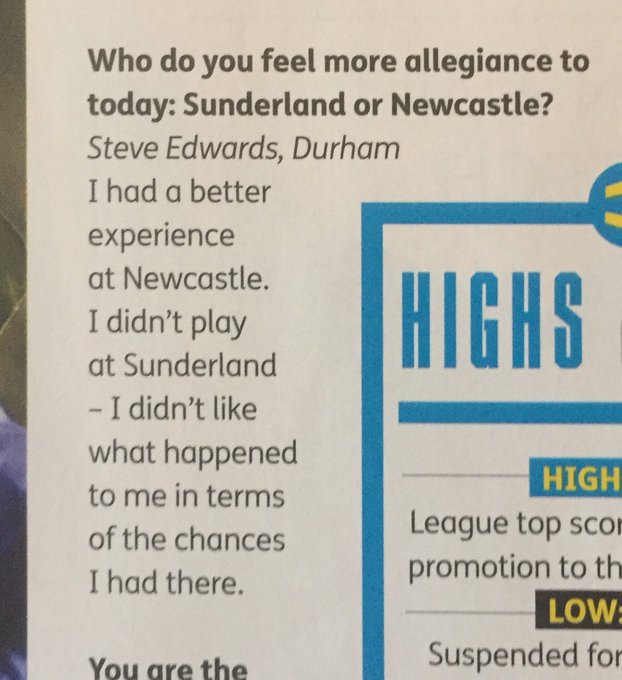 OPINION
While Newcastle fans won't blame Saha for picking their club over Sunderland, his remarks are a little questionable. The 41-year-old striker actually played more times for Sunderland than he did for the Magpies as he featured 14 times for The Black Cats and only 11 times for the Magpies (Source: Transfermarkt). Then again he wasn't at either club particularly long, so maybe the truth is he doesn't really feel a strong connection to either. After all, if Saha was asked to pick out of his former clubs you could probably bet on him selecting Manchester United or even Fulham FC ahead of either the Magpies or Sunderland as he had longer, more successful spells at both. Saha scored 42 goals in 124 appearances for Man United, winning the Premier League title twice with them, and racked up 36 goals in 94 appearances at Fulham to become a favourite at the London club. In comparison, Saha managed just the one goal for the Magpies and actually never got on the scoresheet for Sunderland, which is probably the real reason he didn't enjoy his time. However, then again it wouldn't be a surprise if these comments give Saha's popularity around St James Park a boost, and perhaps strengthen his ties with the club as most members of the Toon Army will just enjoy something extra to mock Sunderland fans over.