Newcastle United duo Mike Ashley and Lee Charnley were left surprised by Richard Keys' Monday evening claim, according to the Chronicle.
The newspaper suggests on their website that the owner, managing director, and even the general staff who roam the corridors at St James' Park didn't understand where Keys had come up with his latest update.
The Chronicle have reported that it is business as usual in the North East, with Magpies' source playing down any possibility of a major development.
Keys suggested on his personal Twitter account Monday night that this week could be very special for all Newcastle fans, which led to suggestions that Mike Ashley had finally agreed on a deal to sell the club.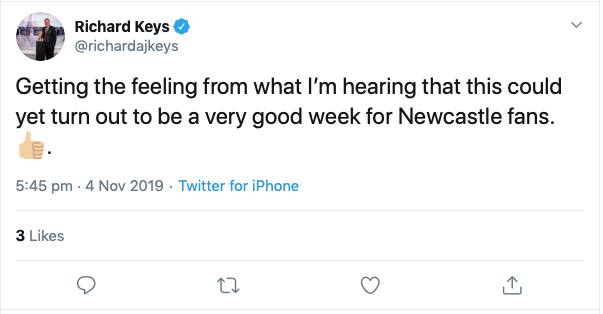 OPINION
The suggestion that Charnley has been left surprised by Keys' tweets all but prove that Newcastle fans shouldn't read too much into this one if they can help themselves. As soon as this dropped, everyone's immediate thoughts turned to the possibility of a take over at St James' Park, something the fans have been desperate for many years. Newcastle have suggested before that they won't be giving a running commentary on any potential takeover so even if there was any breakthrough on that front, not many people would know, and probably even Keys for that matter. Even Ashley himself is said to have been taken aback by the suggestions, so that will all but put an end to any possible takeover in the near future. It is hard to think what Keys could have been suggesting with this tweet after this breaking report, so Newcastle fans may have to be patient for any further news.