OPINION
You could almost set your watch by Richard Keys taking pop-shots at Newcastle United fans. 
Every time the Toon Army are in the news, or any time there is a significant event in their calendar, Keys comes crawling out of the woodwork to dig the boot in.
And so it proved on Sunday, in the run up to the Magpies' Premier League curtain-raiser against Arsenal, when out of nowhere, the broadcaster decided to pipe up yet again on a matter that really doesn't concern him.
Speaking on his personal Twitter account, he said: "'The owner here doesn't share my ambition (so I'm off to China for £12m/year)' Rafa Benitez.
"'I couldn't be more proud to manage this club. It's my club. It was my Dad's club' Steve Bruce.
"I hope the Toon Army eventually works it out. Get behind your team today guys."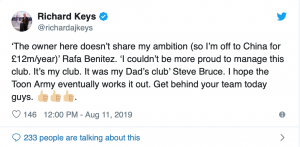 Where do you even begin on this one?
Firstly, to suggest that Benitez was not forced to work on anything other than a shoestring budget is nothing short of ridiculous, and anybody who doesn't believe that Mike Ashley and co. didn't try to barter down the Spaniard's demands for expanding the Magpies' capabilities in the transfer market is either ill-informed or delusional.
Secondly, it takes a big person to criticise somebody for penning a lucrative deal in Asia when they themselves upped sticks and took a gig in Dubai.
Perhaps most pertinently, however, Keys seems to have this false notion that just because Steve Bruce is a Newcastle fan that he should automatically be welcomed into the dugout with open arms.
If that is the case then why not give the job to Ant and Dec, or Jimmy Nail?
Bruce is an adequate manager, but compared to Champions League winner Benitez, his record of around 1.6 points per game in his last two gigs, both of which were in the Championship, pales in comparison [Transfermarkt].
One again, Keys' comments are poorly thought out, wide of the mark, and inexplicably partisan.
The plastic vendetta he has manufactured is beginning to get embarrassing.