Alan Shearer has wished his best to Ayoze Perez on Twitter after it was confirmed on Thursday that the Spanish attacker has left Newcastle United.
Leicester City have snapped up the 25-year-old on a four-year contract after reportedly paying £30million for the ex-Tenerife player.
Not long after the move was announced, Perez took to his personal Twitter account to send his thanks to the Newcastle fans for their support during his five-year spell at St James' Park.
Magpies legend Shearer then reacted to the Spaniard's video.
"Good luck," the ex-England forward said via his Twitter account.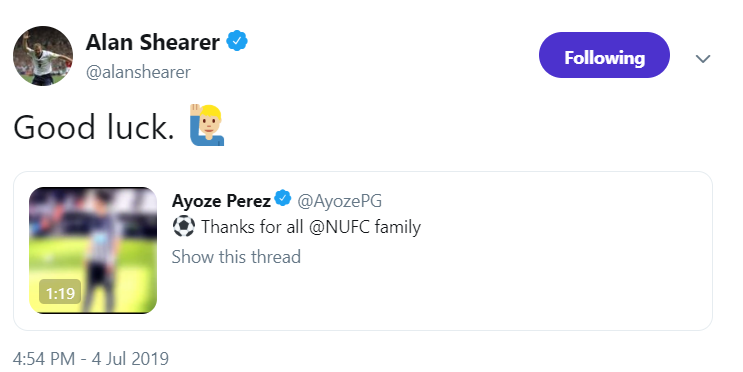 OPINION
It is a shame to see Perez leave Newcastle, but it is good to see that the fans are supportive of the Spanish attacker and are happy to see him leave on what is at least good terms with them. We don't know fully what happens behind the scenes at the Tyneside club, but it's pretty obvious that it's a complete mess. No player can be blamed for wanting to leave and no player can be blamed for leaving to join a club like Leicester, who are better than the Magpies in every single way at the moment. Take away Leicester's miraculous title win three years ago and they're the club that Newcastle should be aspiring to be like. They're well run, they have a good manager, they are loyal to their best players, they sign good players and are operating well within their means. Newcastle are a much bigger club that Leicester in terms of support and history, so why can't the Mapgies match them? There's one reason. Mike Ashley.