Billericay Town assistant manager and former Premier League midfielder Jamie O'Hara has publicly declared his interest in the Newcastle United manager's job.
The Magpies are currently searching for a new boss after Rafael Benitez's acrimonious departure, and the 2017 Celebrity Big Brother contestant has cheekily put his hat in the ring.
After talkSPORT released a tweet asking if anyone wants to take the Magpies job following reports that Rangers boss Steven Gerrard isn't interested, O'Hara let it be know that he would love the opportunity to work at St James' Park.
"I'll take it," he wrote on his personal Twitter account. "Huge club."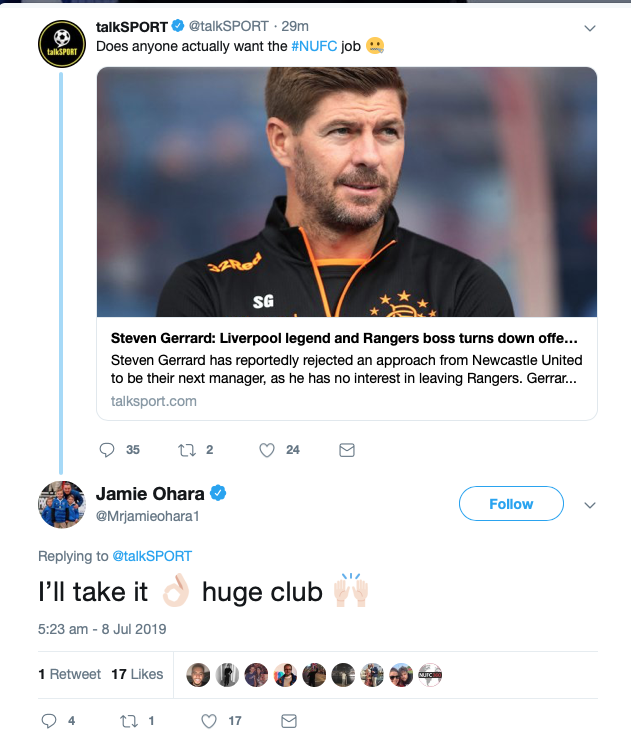 OPINION
Obviously O'Hara was making this comment with more than a little tongue in cheek, but if there was any Premier League team who would appoint a non league team's assistant manager, a former reality TV contestant to boot, it would probably be Newcastle. Under Mike Ashley the Magpies have become something of a laughing stock, with the controversial appointment of Joe Kinnear years ago evidence of the Sports Direct tycoon's capacity to surprise. O'Hara taking the reins would be even more shocking, but that's simply never going to happen. No, he was just having a bit of a joke. The midfielder would likely love to embark on a proper managerial career at some point, but whether he would ever reach the level of Newcastle very much remains to be seen. His stint on Big Brother doesn't exactly help his credibility in the dugout, that's for sure. Still, at least we know someone wants the job!