Former Newcastle United striker Michael Chopra has called out Sky Sports News reporter Pete Graves for his defence of John Carver and Shola Ameobi.
Both men have defended the decision to make a move for Sheffield Wednesday manager Steve Bruce, as reported by The Mag.
Ameobi works for the Magpies, while Carver managed the club for a spell under Ashley.
Graves then gave his backing to the pair in a tweet that was later deleted, claiming that they both wanted what was best for the club, and that there was no "payroll" influencing their comments.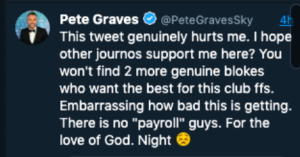 But Chopra then took to Twitter to question the reporter's viewpoint.
Writing on his personal account, he said: "Mate, Shola is employed by the club so he can't say anything bad and JC is probably mates with Steve Bruce."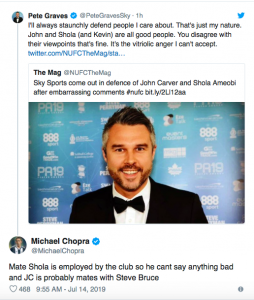 OPINION
Chopra is probably speaking for most Geordies at the moment with this latest tweet. At the end of the day, nobody is doubting that Ameobi and Carver want what is best for the club, or for that matter that Bruce won't give his all, but the issue that fans are taking, and for that matter that Chopra is pointing out, is that there is a certain amount of shadiness that goes into any kind of positive comment about Newcastle at the moment. That's primarily because there is so little to be positive about that when somebody does say something even slightly optimistic, you have to question their motives for doing so. The fans will get behind Bruce because they don't want to see their club relegated, but if suspicions are confirmed and he turns out to be a patsy installed by the Ashley regime purely to keep things ticking over in his image, then they will turn quickly. Honestly, who can blame them?