Allan Saint-Maximin is eager to stay at Newcastle United. 
What's the latest Newcastle United news?
The Frenchman, so often the team's go-player under Steve Bruce, has endured a difficult season.
Despite a strong start, the kind of which that Saint-Maximin play his best football under Eddie Howe, the 25-year-old has fallen down the pecking order after injury derailed his progress following big performances against Manchester City and Wolves in August.
As a result, he was linked with a move to AC Milan during the January transfer window and the arrival of Anthony Gordon makes competition for places even harder.
Largely ineffective during the draw with West Ham on Saturday, Saint-Maximin was replaced by his new teammate and surely faces a battle to start against Bournemouth this weekend.
Still, the former Nice winger claims he remains focused on turning things around on Tyneside.
What has Saint-Maximin said about his future?
Speaking after the West Ham game (via The Athletic), Saint-Maximin said: "I want to be honest because I'm not going to lie. When you are in the situation (of not playing much) for sure, a lot of teams can see that, and a lot of teams can can think it's the right opportunity to come and buy the player.
"I'm very proud to be here for sure, but the most important thing for me is to play and I will always try to be in a position where I play every game, because I don't play football to be on the bench.
"But sometimes you need to understand the situation, and as I said, when I was in, the team didn't lose any game and I did my job and when I was not there the team kept playing well and didn't lose as well.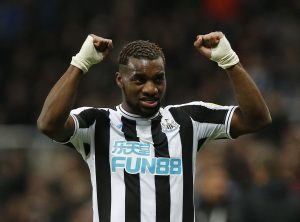 "So you need to understand that if we lose games and I stay on the bench, it would be different. I will never accept that situation. But when the team does so well, especially when you love the players, you cannot only be a nice guy when you play, I'm not like that. I believe a lot in God.
"Even when I didn't play, I tried to pray for the team because finally we are together. And if we go to the Champions League, we're going to go all together. So that's the most important for all of us."
Will Newcastle sell Saint-Maximin this summer? 
While it made little sense to sell the Frenchman in January given the fact Chris Wood also left, perhaps things will be different at the end of the season.
Seemingly out of favour as it is, Gordon's arrival and any fresh incomings in the summer could further impact his playing time. Were offers to emerge, particularly under FFP restrictions, the club would certainly have a decision to make.