Pep Guardiola believes Newcastle United remain in the hunt for the Premier League title. 
What's the latest Newcastle United news?
A recent spate of draws has thrown Eddie Howe's off course ever so slightly.
Indeed, while clearly its better they are moving their points tally along even when not playing particularly well, results of late have allowed Tottenham, Brighton and even potentially Saturday's opponents Liverpool a sight of the Premier League's top four.
Currently, Newcastle sit ten points off League leaders Arsenal and seven behind the chasing champions, as well as five behind Manchester United – albeit with a game in hand.
While there is little need to panic, there has obviously been a slight dip in performance, particularly away at Bournemouth on Saturday.
Still, Guardiola believes none of the top four are out of title contention yet.
What has Guardiola said about Newcastle?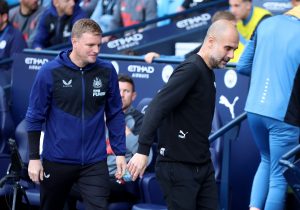 Speaking ahead of City's trip to Arsenal on Wednesday night, Guardiola said (via the club's official website): "Yeah, [Newcastle and Manchester United] they're there.
"When I said (there were) a lot of points to play for, I was not just talking about us.
"I think in the Premier League many points and things can happen in the next weeks that we don't know."
Are Newcastle in the Premier League title race?
It's hard to imagine a scenario in which Newcastle challenge for the title.
Certainly, it's more than promising to see them even mentioned as part of the conversation this early into the new project, they are simply too many points behind Arsenal.
Even were City to overhaul the leaders, they'd still have to collapse completely to allow Newcastle – who aren't even in the best form themselves – to challenge.
That is not a reflection on Newcastle of course, who are enjoying a fantastic season no matter what happens from here.
For now, Premier League title challenges can wait.