Harry Kane has warned Newcastle United legend Alan Shearer after moving to within 60 goals of the Premier League record. 
What's the latest Newcastle United news?
On Sunday, the England captain scored his 267th goal for Tottenham, overtaking the legendary Jimmy Greaves in the record books.
The winner against Manchester City – Kane's 17th of the season – also took him to 200 Premier League goals, becoming only the third player to reach that landmark behind Shearer and Wayne Rooney.
With the 29-year-old believed to be open to staying at Spurs should the club meet certain criteria, there is a very real prospect of Kane overtaking Shearer barring injury.
Indeed, even if he were to leave, Kane is on course to beat the Newcastle legend as long as he remains within the confines of English football.
What has Kane said about Shearer's record? 
Speaking after the win over City, Kane said (via The Evening Standard): "It's always there in the back of my mind but I just take it game by game, season by season.
"It's been an amazing journey. I've been here since I was 11 years old, it's 18 years of my life – a lot of hard work and dedication.
"I'm extremely proud to represent this club. To score 267 goals and 200 Premier League goals for them is something I'll never take for granted. I've just got to keep it going and score as many as I can.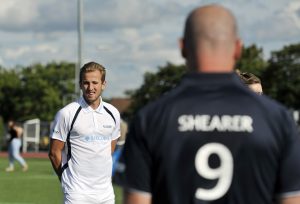 "I feel like probably my strongest asset as a player is my brain. The more games I play, the more experience I get and I only get stronger, so I'm in a good place.
"I'm still only 29 so I still feel like I've got room for improvement and that's what I'll try to do for the rest of my career."
How many goals does Kane need to score to beat Shearer?
Kane is now only 60 goals behind Shearer.
On average over the past 5 seasons, the England captain has scored 21 goals a campaign. Clearly, there's no absolute guarantee he'll keep at that rate but little about his performances so far suggest he's dropping off, so it could take as little as three seasons to see Kane overtake Shearer, providing he stays injury free and in England.