Newcastle United retain an interest in Manchester United midfielder Scott McTominay, according to The Daily Mail's Craig Hope. 
What's the latest Newcastle United transfer news?
An injury to Jonjo Shelvey has reportedly pushed decision-makers at St James' Park into something of a rethink this month.
According to The Daily Telegraph, there is now a focus on signing a defensive midfielder, with Youri Tielemans of Leicester City and Brighton's Moises Caicedo targets.
Scotland international McTominay, meanwhile, is also said to have been considered, although Erik ten Hag is seemingly keen on keeping him.
According to both Hope and Simon Jones in the Daily Mail, the Old Trafford giants are eager to hold onto the 26-year-old for the rest of the season at least.
Would a move for McTominay make sense?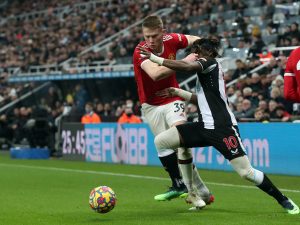 While there are perhaps more fashionable names out there, targeting McTominay makes sense.
A player boasting significant Premier League experience who will soon enter the last two years of his contract in Manchester, he's certainly the profile of signing Eddie Howe has previously targeted, particularly last January.
Trusted by various managers at Old Trafford and also able to operate in central defence as he does for Scotland, there is a logic in looking at him.
That's not to suggest McTominay would necessarily be a first choice for many when the likes of Tielemans are linked but, during what is expected to be a fairly low-key month for Newcastle, it would fit with how Newcastle have operated in the post-takeover era off the field at least.
Will McTominay stay at Manchester United?
That would appear to be the case.
Even aside from the reports mentioned above, ten Hag has already vowed the Scotland international remains a part of his plans despite the summer arrival of Casemiro.
Speaking in October, the Dutchman said (via their official website): "He performed really well, he developed really well and it had nothing to do with Casemiro, but I'm sure Casemiro will play a really important role."