Alexander Isak says he "could not miss" his dramatic winner for Newcastle United on Sunday. 
What's the latest Newcastle United news?
The Swede, who has only recently made his return from injury, scored his third goal in four Premier League games to seal a vital three points for Eddie Howe's side.
For the first time, club-record signing Isak played along star striker Callum Wilson and the two combined for the goal, with the latter playing the ball across for the former to nod in on the goal line.
Given Newcastle have struggled to convert chances of late, the idea of Isak and Wilson both being available is hugely promising. With those in the team and Allan Saint-Maximin approaching something close to full fitness, confidence should be high.
Just a point off of Manchester City in second and into the Carabao Cup semi-final, Isak's goalscoring return is certainly most welcome.
What has Isak said about his Newcastle goal?
Speaking to reporters after the game, Isak said (via PA): "It felt great and it was always special coming on and scoring a late winner. I could not miss that one.
"I just sensed that the ball was going to go in at some point because we had some pressure on them. We knew eventually the ball would bounce right and I was there at the right time."
Could Alexander Isak and Callum Wilson play together for Newcastle?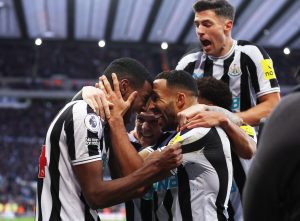 According to The Athletic, Howe largely sees Isak's best position at centre-forward.
Still, the sight of the two linking up so quickly is surely hard to ignore, particularly if Newcastle keep squandering chances.
"Let's wait and see," Howe told reporters of the partnership (via The Chronicle).
"Today was the right moment. I thought long and hard during the game about what to do.
"We felt it was an opportunity to maybe go for the three points but the easy thing to think is the more attackers you put on, the more chances you have of scoring. It doesn't always work that way. Sometimes, it can be counter-productive. Today, it worked.
"I believe in all those players. I believe they can play together. Whether we start that way? It will just depend on the game."