Newcastle United view Christian Pulisic as a potential "statement" signing, according to The Daily Mirror. 
What's the latest Newcastle United transfer news?
Chelsea are reportedly willing to sell the player in January as the 24-year-old approaches the end of his contract at Stamford Bridge. Pulisic, who cost £58m in 2019, will see his current deal expire in the summer of 2024 and sources have told NBN the forward had previously been keen to leave the club.
While the USA captain described Graham Potter's arrival as "fresh start", the American has not featured under him all too often. In fact, the former Borussia Dortmund youngster has started only four of Potter's 11 games in charge, with Chelsea expected to further strengthen their frontline in the coming windows.
As a result, they could look to sell the player while they can still raise significant funds. According to the report, Chelsea are looking for a fee of around £40m, although Newcastle will reportedly look to knock that down.
Would a move for Pulisic make sense? 
Given the failed pursuit of a new winger in the summer, it would certainly make sense to see that position targeted again.
With Ryan Fraser linked with a move away, Pulisic seems like a total upgrade. Indeed, last season, the Chelsea man outperformed the Scottish international in terms of goals (6 to 3), shots per game (0.9 to 1.3, via WhosScored) and dribbles over the same period (1.1).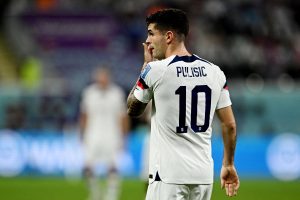 Boasting a huge amount of top-level experience for both club and country and potentially not breaking the bank ahead of a January window in which Newcastle are not expected to spend a huge amount, there'd be a logic in trying to make a move.
As the leading light of American football too, it's easy to see why Pulisic's arrival would be seen as a statement one.
What has been said about Pulisic and Newcastle?
Speaking to Football Insider last month, pundit Alan Hutton tipped the Chelsea forward to make the move north.
"If Newcastle did come in for him it is something that he would definitely sit up and want to think about. I think there is only one direction that they are going in at the moment and it is definitely something that you would want to be part of."