Former Newcastle United goalkeeper Shaka Hislop has urged the club not to move for Chelsea forward Christian Pulisic. 
What's the latest Newcastle United news?
According to The Daily Mirror, Newcastle view the American captain as a potential statement signing in January.
Coming towards the end of his contract at Stamford Bridge and reportedly up for sale, Manchester United and Arsenal are also said to be keen.
Still, they would supposedly prefer a loan move, while Chelsea would prefer a sale. For their part, Newcastle are believed to be willing to make a permanent move, though not for their apparent £40m valuation.
Sources have told NBN Pulisic has previously been unhappy with life in west London due to a lack of game time and was open to the idea of leaving over the course of the summer. While there has been a change in management since, the former Borussia Dortmund youngster has only played four of the 11 games Graham Potter has overseen since replacing Thomas Tuchel.
What has been said about Newcastle and Pulisic? 
Speaking to ESPN, Hislop said: "I don't necessarily understand the need for Newcastle, though I've learned not to question Eddie Howe and who he brings in and how he makes those players a part of his system.
"You look at Newcastle in those positions, they've got [Miguel] Almiron who is having the season of his career. You've got Joelinton, you've got [Joe] Willock, you've also got [Alexander] Isak to come back who can play anywhere along that front three.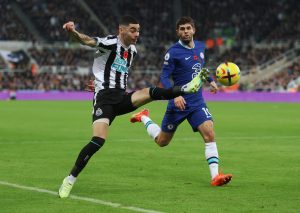 "There's a lot of competition for very few spots. For Christian Pulisic, the concern and the complaint was that he simply wasn't getting enough game time at Chelsea. If you come into a Newcastle that's settled and has played well all year long – both this season and last – does he find himself in a similar position?"
Should Newcastle make a move for Pulisic?
While Hislop is right to point out the idea Pulisic might struggle to get into the Newcastle team right now, Howe needs a more competitive squad should the team qualify for Europe this season.
With Ryan Fraser linked away, the 24-year-old seems like an obvious upgrade. Indeed, The Athletic also suggests Howe sees Isak as a central striker, meaning it could only be see Almiron and Allan Saint-Maximin who could feasibly start over Pulisic, Jacob Murphy aside. Willock and Joelinton, meanwhile, operate far more centrally.
At 24 and coming towards the end of deal all while boasting top level experience with room to further develop, Pulisic would be a sensible signing for Newcastle.