Newcastle United are moving in "much more conservative" circles of spending in January despite suggestions they could make a move to sign a big-name player. 
What's the latest Newcastle United transfer news?
The likes of Adrien Rabiot, James Maddison and Moussa Diaby have all been touted as potential options when the transfer market reopens not long after the end of the World Cup.
Eddie Howe's side are chasing Champions League qualification and a source hinted to The Athletic that the club were working on an "extraordinary" target.
Mundo Deportivo, however, use Joao Felix's situation at Atletico Madrid to provide some insight. While Atletico are believed to be willing to accept a fee of around £86m for the Portugal forward, they suggest Newcastle – who would theoretically (FFP concerns aside) be a team who could afford such a fee – are simply not looking in such a market.
"What clubs are there with sufficient capacity to undertake an operation like the one demanded by the mattress club?" they write.
"Well, certainly few. Manchester United, Manchester City, Bayern Munich , Chelsea , Newcastle and PSG.
"And in the case of three of them there are doubts. Chelsea and Bayern have never made such an investment and Newcastle , although it has the financial muscle after the landing of the Saudi royal family, is moving in much more conservative figures."
Should Newcastle break the bank in January? 
Clearly, with Champions League qualification very much a realistic possibility this season, there must be a temptation to spend big in order to secure it.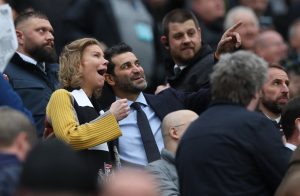 Still, those are the kind of rash decisions the club have just not made in the post-takeover era. Praised for their recruitment thus far, it's hard to see why they'd suddenly commit to spending huge money on what looks like a whim, given the reports from The Daily Telegraph and GIVEMSPORT suggesting this January window would be a fairly understated one.
What has Howe said about FFP limitations? 
Speaking to the Daily Mail while away on warm-weather training duty in Saudi Arabia, Howe said: "In my position, you are keen to sign the best players you can – but those players come at a premium. Botman wasn't cheap, Alex Isak (£60m) wasn't cheap. Those are players who can influence the starting XI.
"Do we have the finances for that? I do not know. That might impact our options. It is a considerable outlay the club have to find and with FFP, I'm not sure that's available to us. You have to work within the guidelines of the club."