Eddie Howe has hinted FFP concerns will continue to impact Newcastle United in the January transfer window. 
What's the latest Newcastle United transfer news? 
With Champions League qualification in sight, many may be wondering if Newcastle will make a big signing in order to further their push to make a long-awaited return to Europe's elite competition.
Still, the club just have not targeted superstar additions since last year's takeover and have instead focused on quality over quantity. That's not to suggest money hasn't been spent, though it is how it has been spent that has been so impressive, with the recruitment strategy frequently praised.
Still, the January transfer window is a notoriously arduous one in which to get value for money.
Last year might have worked for the club but they are shopping in a different market now and no longer need a rebuild. Now, they need additions to come in and improve a squad who rank amongst the best in the Premier League this year.
What has Howe said about FFP? 
Speaking at Friday's pre-match press conference, Howe said (via Keith Downie): "With an unlimited budget it's maybe possible to improve the team, but with FFP looming it's almost impossible.
"But can we improve the squad, that's the question? What we don't want is to handcuff ourselves for future windows."
What are Newcastle doing to improve on FFP?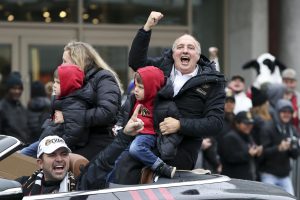 According to The Athletic, CEO Darren Eales is trying to expand the club's commercial revenues to ensure they have greater spending power.
Speaking back in October, Eales said (via NUFC Blog): "Our vision is a stable, top-six club competing for trophies consistently. We have to find our way to get there through FFP and its challenges. We want to be quick. The ownership is keen to get there, but it has to be sustainable.
"If we want to get there as quickly as we'd like to, we have to get every single transfer right and every decision right. That is the tricky thing compared to a previous time (pre FFP) where you could sign a number of players and, if a couple didn't work out, it wouldn't be the end of the world. We can't afford that."