Former Newcastle United midfielder Lee Bowyer has backed the club to stay in at least the top six this season. 
What's the latest Newcastle United news?
With the Premier League return only days away now, the world awaits to see if Eddie Howe's team can keep up their Champions League push.
Beaten only once – and in controversial fashion no less – before the World Cup, little about their form in the first of the season would suggest Newcastle are anything like a flash in the pan.
Still, just over a year into their new era and competing with clubs who boast far deeper squads than Howe's, it would be foolish to suggest Newcastle could simply walk it from here.
Having come through their first game back against Bournemouth, Newcastle will travel to Leicester on Boxing Day before hosting Leeds on New Year's Eve. With a trip to current Premier League leaders Arsenal their first game of 2023, picking up as many points as possible before then feels vitally important.
What has Bowyer said about Newcastle? 
Speaking to talkSPORT, Bowyer said: "I think they will stay in the top six. The way Eddie Howe has spent his money has been very, very good. They've spent their money wisely.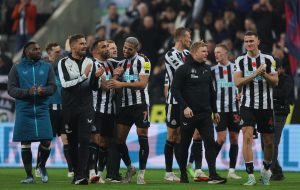 "They've not gone for superstars – which I'm guessing the money is there for them to do that. They know the type of personality they need at the club."
Will Newcastle stay in the top six? 
While an awful lot can happen between now and the end of the season, 2023 would have to resemble nothing of what 2022 has shown Newcastle to be.
Already, Howe's side are nine points clear of Brighton in seventh. The first half of the campaign has taken them to Old Trafford, the Tottenham Hotspur Stadium, the Amex and Anfield. The omens are certainly good, given this is a team to have only lost to Manchester City and Liverpool at home this year.
As things stand, Newcastle look a safe bet to qualify for Europe in at least some capacity.