Leeds United manager Jesse Marsch has hailed the "amazing" job Eddie Howe has done with Newcastle United but claimed money has helped ahead of Saturday's Premier League meeting. 
What's the latest Newcastle United news?
Howe was hailed as the best manager of the year by Jamie Carragher after transforming Newcastle's fortunes. Now genuine contenders for Champions League football, it seems a long time ago now that the club were staring down the barrel of yet another season in the Championship.
Indeed, they head into the clash with Leeds full of confidence.
Still, the nature of the takeover will always lead to debate. While Howe has frequently spoken of FFP concerns, managers such as Jurgen Klopp, Ralph Hasenhuttl and now Marsch have pointed to the money the former Bournemouth manager has been backed with.
What has Marsch said about Newcastle?
Speaking at his pre-match press conference, Marsch said (via the Shields Gazette): "Money's always helpful. I've seen Eddie's comments as well, and you don't want to slight the job he's done, because he's done an amazing job.
"But we all know that in this world of football, it's something that's different than American sports. We have salary caps, and everyone has a chance when the season starts.
"I'm sorry, but the way that European football works, that's just not the case. And so how do you build? Well, one is a process and continuing to invest every penny the right way, which we're trying to do, and another one is a massive influx of money."
Is Marsch right?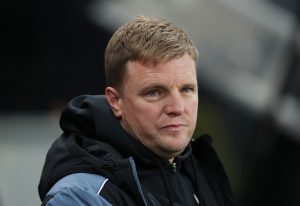 Clearly, being able to bring in players such as Bruno Guimaraes, Kieran Trippier and Sven Botman helps. There is no getting around that and they simply aren't the kind of signings the club could have dreamed about making during the Mike Ashley years.
However, that does not tell the whole story. Howe hasn't just signed well, he's completely transformed the players he inherited from Steve Bruce, making old investments in the likes of Joelinton, Joe Willock and Miguel Almiron go much further.
Newcastle's success is just as much a story of coaching as it is about spending money.