Joelinton admits he hopes Bruno Guimaraes will get more in the way of playing time for Brazil at the 2022 World Cup. 
What's the latest Newcastle United news?
Despite starring on Tyneside from pretty much the minute he arrived from Lyon in January, Guimaraes has not had much of a look-in thus far.
While manager Tite has afforded him 67 minutes of action, the 25-year-old appears to be playing a back-up role for the Selecao and it's hard to imagine that changing now the tournament has reached its business end.
Still, Guimaraes, who expressed his regret Joelinton's Newcastle form was not enough to see him called up, could well be a World Cup winner by the time he returns to St James' Park. Given the midfield competition in the squad and beyond, that's hardly something to be sniffed at.
The five-time winners are gearing up for their quarter-final with Croatia on Friday and Joelinton hopes his good friend will feature.
What did Joelinton say about Guimaraes?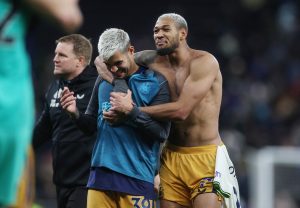 Speaking to club media while away in Saudi Arabia on Newcastle's warm-weather training camp, Joelinton said: "I'm very happy for him to make his debut.
"The first game he came in, he made the difference so far us, for me as a Brazilian fan!
"In the two games he played, he's played very well.
"I hope he gets more chances to come in and show the world how good he is.
"Before every game we talk a little bit, I wish him the best of luck. He's very happy, he's very positive, the vibe and togetherness is very good."
What has been said about Guimaraes at the World Cup? 
Speaking to Rio Ferdinand's Vibe with Five Podcast earlier this month, pundit Patrice Evra suggest Guimaraes would be happy just to be involved.
"To be honest, I think the players to play, in the starting XI, even in the squad are really expensive," he said.
"It's really difficult to make it in the squad.
"I think Bruno must already be happy to even be on the bench. It's difficult to start in that team. Brazil has too much talent. Too many players to play. Even in 1994, wasn't Ronaldo on the bench? He was a child. Ronaldo was on the bench. Of course, it was Romario, Bebeto, this is Brazil. I am not surprised."