Newcastle United's next big wave of spending is likely to come next summer rather than in January, according to The Daily Telegraph. 
What's the latest Newcastle United transfer news?
Riding high in the Premier League after a stunning start to the season before the World Cup break, Eddie Howe's side have to be considered as major players in the Champions League race.
Chelsea and Tottenham have both been beaten, Manchester City and Manchester United couldn't beat them and only a controversial late goal away at Liverpool has condemned Howe to defeat thus far. Were goals against Crystal Palace and Brighton not chalked off, Newcastle could well be on Arsenal's tails at the summit.
Clearly, that's no guarantee things will run quite as smoothly when players return from Qatar. Frankly, nobody knows just what level of impact a mid-season tournament will have after completion, though that changes little in terms of Newcastle's curent League position. Having been on a searing run of form for close to a year now, the foundations in Howe's team look strong, rather than this just being a flash in the pan.
As such, it must surely be tempting to invest more in January. Further strengthening in 2023 could set Newcastle up nicely for a run to make it back into the big time.
So, what are Newcastle going to do in January?
Still, the report suggests there is no level of overexcitement in the Newcastle camp.
Indeed, the Telegraph suggest rash decisions are unlikely and that the lofty League position will not force recruitment staff to gamble.
Part of Newcastle's success since last October's takeover has been their ability to sign the right kind of characters, players capable of coming in and raising the level without blowing the bank on a potential dud, as Chelsea and City did during the early days of their increased spending. To change that process and rush into decisions would not exactly be in keeping with everything we've seen from the owners thus far.
While there is thought to be money available should the right deal present itself, the next major recruitment drive will reportedly have to wait until next summer.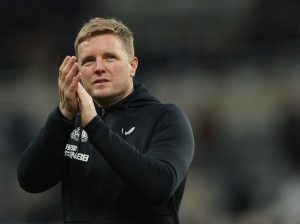 What has Howe said about January? 
Speaking earlier this month, Howe said (via Newcastle World):"We haven't had internal discussions in terms of finances and how we look in the market. That'll be a question for another day. At the moment, our focus is on the three games next week. During the break, we'll look to January to see what our options are."