Saudi Arabia's sports minister has hailed the work done at Newcastle United since last year's takeover. 
What's the latest Newcastle United news? 
Little over 12 months since the end of the Mike Ashley era, Newcastle are sat third in the Premier League and look capable of Champions League qualification.
Clearly, there's an awful lot of work still to be done and nothing about Eddie Howe's demeanour in the first half of the campaign would suggest anybody at the club is getting carried away.
Still, and while it might sound rather trite, whatever happens after the World Cup (barring an almighty collapse of course), this season would surely have to be considered a success.
The first full one under new ownership, great strides have already been made and the future is very bright indeed.
Over time, it stands to reason the squad will get stronger, commercial deals will get more lucrative and the club will be even more competitive. While none of that is guaranteed of course, there is little reason to doubt such an upward trajectory as things stand.
What have Saudi Arabia said about Newcastle? 
Speaking to BBC Sport, sports minister Prince Abdulaziz bin Turki Al Faisal said: "They've done an excellent job.
"They still have a long way to go – they've brought the right people on board.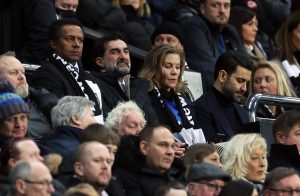 "I'm sure they have targets to win the league and the Champions League and so on because they strive for the best and always bring the best on board, so I think it's going to be a bright future for Newcastle."
What has been Newcastle's major success?
It has to be the appointment of Howe.
Obviously, having the funds to bring players such as Bruno Guimaraes and Kieran Trippier to a club who were battling relegation at the time helps and the kind of characters recruitment staff have identified have been critical to the recent success.
Without such work, it's not difficult to imagine a team suddenly coming into a huge increase in funds making rash decisions on big name players who may not be conducive to fostering the team spirit needed to stave off worries about the drop.
Still, it is Howe who has stood out. While a higher profile of signing helps, the former Bournemouth coach has yielded an improvement that borders on transformation from the likes of Joelinton, Joe Willock and Fabian Schar, making money Newcastle spent long before the takeover go further.
Without Howe, Newcastle would be in a very different place.