Sean Dyche has backed Chris Wood to keep scoring for Newcastle United after netting his first Premier League goal of the season against Southampton. 
What's the latest Newcastle United news?
With Callum Wilson suffering from illness in the build-up to Saturday's huge clash at home to top four rivals Chelsea, there seems to be a reasonable chance Wood will be handed only his second start of the season.
Talked up by Eddie Howe in the build-up to the game, the 30-year-old is the only central striking option free of any fitness concern, with Alexander Isak also ruled out.
While Wood has certainly played his part in Newcastle's turnaround since January, it's hard to frame four goals in 32 appearances for the club proving worth anything like the £25m spent on him.
That is not a criticism of the player or the deal, particularly given the frantic nature of the January transfer window that Wood was signed in, but few would argue he is a downgrade on what Wilson and Isak have done in Newcastle shirts.
Still, Dyche believes Wood is the type of player who scores in bunches.
What did Dyche say about Wood?
The former Burnley coach told talkSPORT: "Woody goes through spells [of not scoring and not scoring].
"But when he comes back through it – you know he scored the other week – does that now start him off again?
"We'll see. But he's that type of player, when he does get it right, he does score goals."
Is there logic into what Dyche is saying?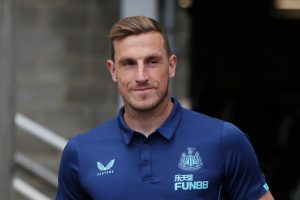 Well, having managed the player for a number of years at Turf Moor, Dyche is certainly in a good position to speak.
Interestingly, eight of the 12 goals Wood scored in the 2020/21 season for the Clarets came in as many games, while the first half of the fourteen he bagged the year before came in only six games, with the final three coming in as many appearances at the end of the season.
Certainly, Wood has a previous when it comes to hitting purple patches.
Obviously, that's no guarantee it will happen again, but is certainly something to consider.