Bruno Guimaraes is "sad" Newcastle United teammate Joelinton could not join him at the World Cup. 
What's the latest Newcastle United news?
The pair have struck a wonderful partnership in the heart of Eddie Howe's midfield at club level, with Joelinton emerging as one of the most crucial players in a Newcastle team flying high.
While his conversion into a central midfielder started before Guimaraes' arrival, Joelinton's partnership with his compatriot has been talked up. In fact, Transfermarkt data notes they have lost only three of the 27 games they've played together, amassing a fearsome points-per-game tally of 2.19.
Such has been Joelinton's rise under Howe, the 26-year-old was backed to make a run into the Brazil squad for the World Cup in Qatar, a tournament they have been widely tipped to win.
Still, it seems the midfielder could not quite do enough, with Guimaraes selected alongside Fabinho, Fred, Casemiro and Lucas Paqueta in a very well-stocked part of Tite's set-up.
What has Guimaraes said about Joelinton? 
Speaking from Brazil's training base, Guimaraes said (via talkSPORT): "I'm sad for him because I hoped he would be in the squad with me.
"He's a great player who has been playing really well this season.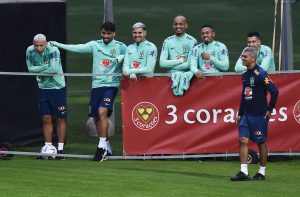 "He has helped me a lot since I arrived and I see him as my brother."
When do Brazil play in the World Cup?
Guimaraes could well be in action in at least some capacity on Thursday November 24 when Brazil play Serbia at the Lusail Iconic Stadium in Lusail at 7pm GMT. 
The Newcastle star suffered an injury scare in training but did manage to complete the session in Turin before his country jetted out to Qatar.