Alan Shearer believes Newcastle United's willingness to win ugly is the start of an exciting process. 
What's the latest Newcastle United news?
While few would doubt the quality the likes of Bruno Guimaraes, Kieran Trippier and Alexander Isak can bring, it is the steeliness in which Eddie Howe's team operate that has made Newcastle so hard to beat this season.
No one in the Premier League has conceded fewer goals, while only four teams have allowed fewer shots on goal per game (11.1, via WhoScored). FBREF data, meanwhile, notes that only four teams have committed more fouls this season (164) but the fact Howe's men have only picked up 24 yellow cards (the 11th-lowest) and no reds would suggest it is a well-thought ploy, rather than being physical for the sake of it.
While their time-wasting tactics have been criticised at times, it all adds to the idea that this team are not a soft touch, establishing themselves as a group players capable of mixing it on a physical level while also boasting the kind of quality to beat sides such as Chelsea and Tottenham.
What has Shearer said about Newcastle?
Speaking to The Athletic, the club legend said: "All of the top sides have steel.
"I think that's true now and it's certainly true historically; the Arsenal side that won the double in 1998, the Manchester United side that won the treble in 1999, the Liverpool side of the '70s and '80s. Don't tell me that all those teams were about lovely, nice football. Look at their characters. Yes, they had flair, but they also had tough f****** who were prepared to give it out.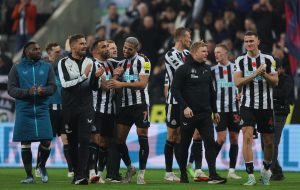 "It's part of winning. And Newcastle are getting there."
How exciting is the future for Newcastle? 
If Howe's side can retain that quality while adding more quality over the next few windows, the future is very exciting indeed.
Not conceding goals obviously gives a team a great platform on which to build and proving able to defend deep even when pressure is piled on in the dying embers of a game is another fantastic quality, the kind Newcastle teams of old were sorely lacking.