Brendan Rodgers admitted Leicester City "keep losing" their best players amid Newcastle United's interest in James Maddison. 
What's the latest Newcastle United transfer news?
The club are reportedly expected to go back in for the midfielder in January after a number of rejected bids over the course of the summer and the 25-year-old has less than two years to run on his current contract.
While Leicester have previously been one of the most ambitious sides in the Premier League, they endured a difficult summer and are struggling this season. Those issues, however, have not extended to Maddison, who has scored five goals and registered two assists in seven games.
Indeed, the former Norwich man's form has been so good there have been calls for him to break into the England squad ahead of the World Cup this winter. Given how little time there is to go and Gareth Southgate's decision to constantly overlook him, that would seem unlikely but the clamour to see him included certainly underlines just how well Maddison has played.
What has Rodgers said of Maddison's future?
Speaking to the Press Association prior to Leicester's Premier League loss at Bournemouth on Saturday, Rodgers said: ""It's only natural you want your absolute best players to be here, and we keep saying that, but we keep losing them.
"He's never a player you would want to lose. But I can only focus on him now and day by day.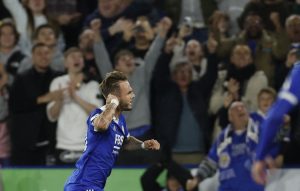 "The beauty of James, and it's the same with this England scenario, it hasn't affected him. That's where you see the level of maturity.
"What we've seen in the past is, sadly, players are linked with all sorts of clubs because an agent has to create a market, and then when it doesn't come off, you see the player then go down.
"It's never been like that, and James has been linked with loads. But he's also a realist. He also knows he's in a good place to develop and learn, and he knows he can focus on day-to-day life and improve. What will be in the future will be, but it will only be on the back of playing well."
How does Maddison compare with Newcastle's other attackers?
Given Maddison has largely operated on the right this season, it seems fair to compare him to Newcastle's other wide attackers.
While Miguel Almiron is arguably in the best form of his career on Tyneside and Allan Saint-Maximin is finally starting to show signs of clicking under Eddie Howe, there's little doubt Maddison improves the team's attacking outlet should he join.
Indeed, WhoScored data notes the Leicester outdoes the two Newcastle players for shots (3.3 to 2.1 and 3 respectively), key passes (2.4 to 0.6 and 1.8) and draws more fouls (2.4 to 0.6 and 1.8) on a per-game basis. Given Kieran Trippier's set-piece ability, winning more free-kicks could be a useful weapon for Howe's side.
That's not to say Maddison should force either out of the club of course (Howe is trying to build a more competitive squad after all) and the player is capable of playing in other positions but surely few would argue against the idea his quality could improve Newcastle.