Eddie Howe has stressed Newcastle United are desperate to keep Bruno Guimaraes happy. 
What's the latest Newcastle United news?
The Brazilian was linked with a move to Real Madrid over the course of the summer and recently described them as the "best team in the world", albeit while confirming his eagerness to stay at St James' Park.
Such has been the level of his impact since a January move from Lyon, it's hardly surprising to see the 24-year-old linked with moves to the likes of Madrid, with Manchester City another recently credited with an interest.
Still, Guimaraes signed a six-year deal only a few months ago and has made little secret of his love of playing for Newcastle, vowing to become a legend with the club.
While any team in world football would find it difficult to match the allure of Madrid, a club who frequently win the Champions League and have previous in tempting the Premier League's top players to the Spanish capital, Newcastle simply do not need to sell.
Were any club – no matter who they are – to enter negotiations over a move for Guimaraes, it would have to be done on Newcastle's terms, an unusual position for the club to be in.
What has Howe said about Guimaraes' future?
Speaking at Friday's pre-match press conference ahead of Sunday's trip to Manchester United, Howe said: "We desperately want Bruno to be happy here, to enjoy his football and see a long term vision. We want to build a team. We're in the very early stages of that so we don't want to disrupt the group we have, we want to add quality – that's the aim."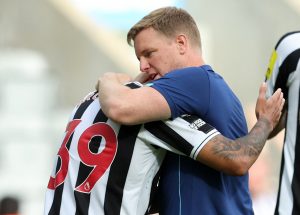 What are Newcastle doing to keep Guimaraes?
The only way Newcastle are going to keep their best players happy amid interest from elsewhere is to offer them a project worth staying for. Money alone will unlikely keep ambitious stars, so they need to fulfill their end of the bargain and start getting into Europe before pushing on from there.
Of course, that's easier said than done and these are early days but the initial signs do look promising on that front.
Interestingly, according to Fabrizio Romano, the club are preparing a new deal for Guimaraes "very soon".