Bruno Guimaraes has played down links with a move to Real Madrid as the Newcastle United midfielder continues to star. 
What's the latest Newcastle United transfer news?
Following Casemiro's move to Manchester United in August, Guimaraes was touted as a potential option to replace his compatriot in the Spanish capital.
The Brazilian international has previously been backed as having the quality to play for the likes of Madrid and Barcelona, such has been his rapid-fire adjustment to Premier League football. A £40m bargain in the eyes of Eddie Howe, it's easy to see why clubs of that level would be linked with moves.
Still, Guimaraes is much more than just a key player at Newcastle. The 24-year-old is arguably the face of the club's new era, a symbol of the level of talent the club can now attract and a player capable of developing even further over what is set to be an exciting few years on Tyneside.
What has Guimaraes said about Real Madrid?
Speaking to The Chronicle (via Fabrizio Romano), the Newcastle star said: "Real Madrid is the best team in the world, so… nice, but it's just a conversation, it's nothing.
"I want to be a legend at Newcastle. The ground love me and I love them. I never doubted the project".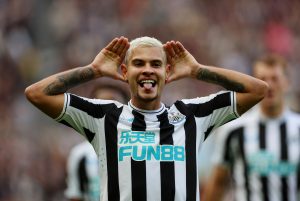 Should Newcastle fear Guimaraes' exit?
Clearly, it's difficult for any club to match the allure of Real Madrid, with even a Manchester United side frequently competing in the latter stages of the Champions League losing Cristiano Ronaldo to the Spanish giants in 2009.
Still, Guimaraes has signed a six-year deal and has frequently spoken of his desire to stay long-term. If the club can get into Europe and offer him that platform to compete, it's difficult to see him forcing the issue.
Given the size of Newcastle's financial backing, any exit would surely be negotiated on their terms. The club do not need the money, so perhaps if they keep up their end of the bargain, there would be little reason to fear anything imminent.