Newcastle United sporting director Dan Ashworth has revealed the latest on the club's training ground developments. 
What's the latest Newcastle United news?
The club were granted planning permission to upgrade their Benton training base earlier this summer, representing a significant step forward.
Indeed, fans will be all too aware of the now infamous images that circulated some years ago of players taking ice baths in wheelie bins and padding pools, such were the lack of facilities. Frankly, it's almost impossible to imagine some of the world's top players wanting to train there, even if Newcastle are in a position to attract them over the next few years.
What has Ashworth said about the training ground?
Speaking to The Northern Echo, Ashworth said: "The training ground is going through a period of improving our capacity. That's not only to fit more people in there, it's also to improve it for players on recovery, on diet and nutrition, a lot of money has gone into new training pitches for example.
"There are some short-term fixes you can have. But then there's also the longer-term question of whether (the club needs) a purpose-built training (complex) that can incorporate an academy, women's and first team, that may or may not be coming down the track. That's more about the long-term, and those are processes that are harder to fix."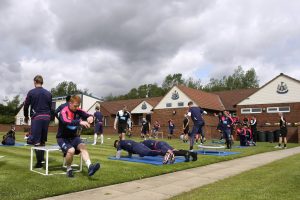 How important is a new training ground?
In the wake of the takeover last year, Amanda Staveley described the set-up as "really awful" and surmised "there's no point having fantastic players if there's nowhere suitable for them to train".
Certainly, making improvements in the infrastructure around the club should be taken as seriously as those made on the pitch. If Newcastle are going to challenge at the top of the Premier League and in Europe, they need to provide a platform for players.
A piece from The Athletic in 2020 said of Benton; "compared to the modern facilities at local rivals Sunderland's Academy of Light, theirs were outdated."
Both on and off the pitch, it's fantastic to see Newcastle making attempts to modernise.