Liverpool manager Jurgen Klopp insists teams cannot compete with the likes of Newcastle United, Paris Saint-Germain and Manchester City. 
What's the latest Newcastle United news?
Earlier this week, sporting director Dan Ashworth spoke in glowing terms of Newcastle's ambitions, proclaiming there was "no ceiling" to what the club could do in the coming years.
After so long in the doldrums during the Mike Ashley years, such a message will have been music to the fans' collective ears and a reminder that this is only the beginning. And what a beginning it has been.
Klopp, however, appeared to hit out at the nature of the backing of Newcastle, PSG and City, all three of whom have been labeled as "sportswashing" projects at one point or another.
What did Klopp say?
Speaking ahead of Liverpool's meeting with City on Sunday, Klopp said (via The Daily Mirror): "I heard now that at Newcastle somebody [Dan Ashworth] said 'there is no ceiling for this club'. Yes! He is right. He is absolutely right. There is no ceiling for Newcastle. Congratulations, but other clubs have ceilings."
Is Klopp right?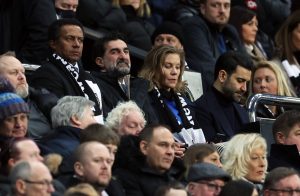 It's a difficult subject to broach.
It is, of course, slightly depressing that football has come down to this. Without such big funds, and the moral concerns they can bring, none of PSG, City or Newcastle were exactly in much of a position to challenge for Europe's leading honours. Clearly, Newcastle still aren't, but the direction of travel and level of ambition on show would suggest they could be one day.
Still, that is the position football has put itself in. With all three takeovers rubber-stamped by the relevant authorities, there's not much that can be done about it at this point. Outside of a freak Leicester-type season, money is what matters most, which is not exactly the most romantic notion in the world but a sad fact of life.
What is most interesting about the Newcastle project, however, is just how well thought-out it's been. Suggesting that merely having access to huge funds would be doing decision-makers on Tyneside a disservice (of course they help), with a focus on signing the right characters and improving the infrastructure to grow the club up in a sensible fashion the most impressive aspects of the new era so far.
Given the controversial takeover, such criticism was always likely. The only thing Newcastle can do is keep on track.