Jose Enrique believes Newcastle United have their very own Luis Diaz in Miguel Almiron. 
What's the latest Newcastle United news?
While Almiron's end product has frequently come under question ever since his move to St James' Park in January 2019, the 28-year-old has hit form this season.
Already, he's scored three goals in eight Premier League appearances, sitting just one off his biggest ever tally in black and white. Bizarrely criticised by Jack Grealish after Manchester City's title win last season, Almiron is certainly making a statement this time around.
The Paraguay international scored twice at Fulham on Saturday, the first coming through a ridiculous volley that had Alan Shearer purring on social media.
While Newcastle chased the likes of Moussa Diaby and James Maddison over the course of the summer in an effort to strengthen their attacking line, Almiron must be giving Eddie Howe something to think about. In this kind of form, it's difficult to argue against him establishing himself as a key player.
Indeed, it's amazing to think he was linked with likes of Fulham and Everton only a few months ago.
What has been said about Almiron?
Speaking to Lord Ping, Enrique said of the win over Fulham: "If I was a manager, Almiron is the exact kind of player I want. He never stops running and even if he's not performing, you know what you're going to get.
"He's always going to give his all and that's what I love about him, as well as the amazing qualities he has.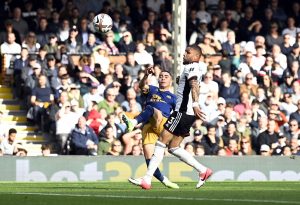 "There's not many left-footed right wingers who are doing well at the moment but he is and he's one of the most important players for Newcaslte at the moment and one of the best wingers in the league.
"Almiron is a bit like Luis Diaz, he can change the game but most importantly he gives his all.
"I love watching him. How he calls for every ball and fights. I'd love players like this in my team."
How do Almiron and Diaz compare?
Clearly, this season offers only a small sample size and Liverpool are not exactly in good form, but Almiron's numbers are comparable.
Both have scored three times, while Diaz only marginally leads the Newcastle star when it comes to key passes (0.7 to 0.6, via WhoScored) and shots (2.3 to 2.1) per games.
FBREF data, meanwhile, notes that Almiron averages more in the way of goals-per-shot a game than the Liverpool forward (0.60 to 0.38).
Given all the praise Diaz has rightly received since arriving at Liverpool, it's a testament to Almiron that he's posting similar averages.