Eddie Howe has warned his Newcastle United team to remain "level and calm" despite their impressive form. 
What's the latest Newcastle United news?
After a somewhat frustrating start to the season in terms of the points tally (albeit amid some mitigating factors such as dubious VAR calls and injuries to key players), things appear to have clicked into gear of late.
The last two games have yielded nine goals scored as the likes of Callum Wilson, Joelinton and Allan Saint-Maximin have returned to action and spirits are certainly high heading into Sunday's trip to Manchester United.
For the first time in years, it feels like it would be a disappointment not to leave Old Trafford with something. Newcastle have taken both Manchester City and Liverpool close this season and, while Erik ten Hag's side have improved since a poor start to the campaign, are not quite as daunting as they once were.
What has Howe said of the game?
Speaking to the Press Association, Howe said: "We have to remain very level and calm internally now. Yes, I know our form has been good consistently for a period of time, but form can change and my job is to keep everyone grounded internally, keep the players very focused on the short-term objectives.
"We have a group of games now coming up before the World Cup and we need to continue to be successful and to pick up points, and, if we can do that and go into the turn of the year in a good position, then rightly so.
"But it can change. The league is very condensed. It only takes a bad run of form then to knock you off your target, so I'm very relaxed about the situation at the moment.
Do Newcastle need to worry about complacency?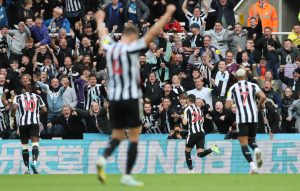 Little about this team since the stunning turnaround in form to have pushed them away from a relegation scrap last season would hint at any sort of complacency.
Such are the characters the club have brought in since the takeover, there would at least appear to be no ego, with everyone keeping their feet very much on the ground.
While it would be disappointing not to come away with anything on Sunday afternoon, the performance is what matters most. If Newcastle can once again compete with one of the Premier League's top teams, it would offer another indication of their progress.
Based on everything we've seen from Howe and the players, it's difficult to imagine Newcastle not showing up and putting in a shift, which might be something to take for granted now but certainly hasn't been in years gone by.