Eddie Howe says he could "understand" why Newcastle United initially opted for Unai Emery. 
What's the latest Newcastle United news? 
Following the October takeover, the PIF decision-makers at St James' Park made a move to appoint the former Arsenal manager after sacking Steve Bruce.
Emery, however, snubbed the chance to leave Villarreal – a Champions League team at the time – meaning the club then turned to the out-of-work Howe, who had come close to joining Celtic only a few months before. In an interview with the Scottish giants, the former Bournemouth boss convinced the club's board of his long-term vision, although the move broke down after a problem in getting Howe's preferred staff up to Parkhead.
While the rather public manner in which Emery rejected a move to St James' Park threatened to put Howe in a fairly awkward position of being an obvious second-choice, Newcastle have not looked back since.
From December until May of last season, the team embarked on a record-breaking run of form to pull away from a relegation scrap and make a play for the Premier League's top half, fostering a sense of unity with the support lacking for pretty all of the Mike Ashley era, with Rafa Benitez's tenure perhaps the only exception.
Why did Emery reject Newcastle?
Speaking to BT Sport after Villarreal's loss to Manchester United in November, Emery said: "As a professional, everybody wants to listen when your work is efficient, but for now I am very focused here and have the opportunity to manage in the Champions League."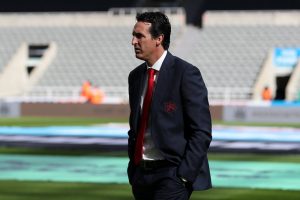 The Athletic, meanwhile, claimed in November that Spaniard felt pressured amid Newcastle's pursuit.
What has Howe said about Newcastle's interest in Emery?
In an interview with Alan Shearer for The Athletic, Howe said: "When I found out it was down to us both, I could understand the club's decision, because you've got someone who's worked in the top leagues in Europe for a long period of time, so it was almost like, 'I had no chance of winning that fight'. But the rest is history."