Jose Enrique has revealed he recommended Newcastle United star Alexander Isak to Liverpool last year. 
What's the latest Newcastle United transfer news?
The Swedish striker scored on his debut at Anfield on Wednesday night and was unlucky to have what would have been a sublime second ruled out following a marginal offside call.
Isak, who Newcastle tracked for months prior to his arrival, became the club's record-signing last week after a summer-long pursuit of a new forward. A huge talent who Nothing but Newcastle understands has previously attracted interest from Arsenal, the 22-year-old has already played for a number of big clubs around Europe, such as Borussia Dortmund and Real Sociedad.
Having made his international debut before the age of 20, Isak has hardly been much of a secret, with Liverpool previously linked with a move too.
While these are early days of course, the Swede has certainly made quite the impact already. Not only did Isak score, FBREF data notes his 20 pressing actions ranked second in the Newcastle squad, behind Sean Longataff on 22 and equal with Liverpool's highest in Roberto Firmino.
Given he was only handed a work permit on the day of the game and has only had a few training sessions with his new teammates, that's hugely impressive.
What has been said about Isak?
Speaking to Boyle Sports, Enrique – who left St James' Park for Anfield in 2011 – revealed he pushed for the Merseyside giants to sign the player last year.
"It's a crazy fee but all the fees are crazy right now. Chelsea tried to sign Anthony Gordon for £60m and he's done nothing so far in his career.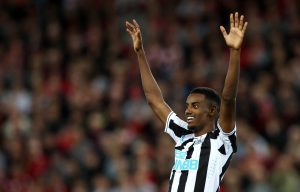 "It's crazy at the moment and that's why I don't criticise the big transfer fees right now.
"Isak is a player I really like and I recommended him to Liverpool last year. He suits the profile of what Newcastle need right now.
"Callum Wilson can get you many goals but he's very prone to injury and that's why they needed another one to help him."
What did Eddie Howe say of Isak's Newcastle's debut?
After the sickening late loss at Liverpool on Wednesday, Howe said of his new club-record signing (via BBC Sport): "He looked a threat and his pace was a key outlet for us. There were a number of really good performances.
"The performance and the commitment of the players was second to none. I think we are getting closer, but you need points."