Everton would now consider selling Anthony Gordon this summer, sources have told Nothing But Newcastle. 
What's the latest Newcastle United transfer news?
The 21-year-old is of interest to Eddie Howe, although there was a feeling Everton would not risk invoking the ire of supporters by selling a popular player after such a poor season last time out.
Still, Chelsea have made an offer for the England U21 international and Frank Lampard is understood to be willing to sell in an effort to raise further funds, while the Goodison Park club value their player at around £45m.
Howe is keen on making further attacking signings during what remains of the window, having struggled to land a number of targets such as Chelsea's Armando Broja and Timo Werner.
While the head coach has hinted Callum Wilson will continue as the club's first-choice forward despite his patchy injury-record, Gordon could help strengthen Howe's options on the right-hand side. Miguel Almiron and Ryan Fraser offer alternatives, though the two combined for only three Premier League goals last season.
Should Newcastle move for Gordon?
With Everton demanding more than Newcastle have ever paid for a player, a move would seem unwise given the FFP limitations the club are operating under.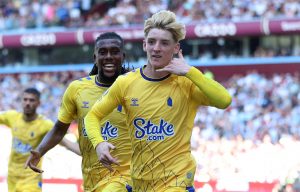 That's not to say Gordon would not be a good signing, although why not pursue a move for James Maddison if those kind of funds are still on offer? Clearly, the Everton man might have more of his career ahead of him, but Maddison is still only 25 and has proven himself as a potent attacker in the Premier League.
Newcastle were outscored by Brentford, Crystal Palace and Brentford last season. Maddison, at least, is proven across a number of seasons and though Gordon is clearly a talent (who could make an impact at St James' Park), the Leicester star seems a much safer bet.
What has been said about Gordon?
When news of Chelsea's bid emerged, Sky Sports pundit and former Newcastle manager Graeme Souness suggested Gordon was not worth the money.
"£40m for a 21-year-old who has played 51 times in the Premier League? He's not set the heather on fire yet," said Souness (via Sky Sports). 
"He's a dribbler and he's quick enough. For me, he goes to ground a bit too easily but that's a lot of money for someone who's only played 50 games. It's not screaming at you when you see him play that he's going to be a top man."