Eddie Howe has described Liverpool's last-minute winner as a "sickener" but stressed his team did not deal with the corner that led to it initially. 
What's the latest Newcastle United news?
Debutant Alexander Isak had put Newcastle ahead with a sublime finish in the first-half and was unlucky to have an equally brilliant second ruled out after the break, with the Swede adjudged to have been marginally offside.
Still, as resolute as Newcastle were, Roberto Firmino restored parity just after the hour mark before the ultimate heartbreak. Eight minutes into a five-minute injury time, Fabio Carvalho powered a shot past Nick Pope after a corner was not fully cleared to end United's unbeaten start to the season.
Clearly, the time at which the winner came will be the subject of much discussion. While it's true that a number of Newcastle players did go down with cramp throughout proceedings, the decision to a full three minutes as an extra was hugely controversial.
What did Howe say of the game?
Speaking to BBC Sport, Howe said: "That's the pain of football. That's the horrible side of it when your team has given everything. It is a sickener for us but it is part of the game. We just didn't deal with the corner.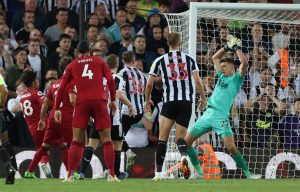 "I thought we played well in the first half. Naturally when you are 1-0 up here you are not going to be the dominant team and you are going to have to withstand pressure. It is difficult to defend against this team."
What did Howe say of Alexander Isak?
Again speaking to BBC Sport, Howe said: "He looked a threat and his pace was a key outlet for us. There were a number of really good performances.
"The performance and the commitment of the players was second to none. I think we are getting closer, but you need points."