Steve Bruce insists he is "glad" he took the Newcastle United job in 2019. 
What's the latest Newcastle United news?
While Newcastle are now looking ahead under the exciting management of Eddie Howe, it is crazy to think it is less than a year since the dark days of the Mike Ashley era.
In many ways, Bruce's tenure was the worst of Ashley's ownership, even taking into account the two relegations. At least with those, there was hope of a rebuild and the Championship-winning campaigns proved exciting, hinting at something growing within the club.
When Newcastle returned to the Premier League under Chris Hughton, the emergence and subsequent sale of Andy Carroll helped fund the signings made by Graham Carr in the French market, which briefly had the club battling for the top four. Rafa Benitez, meanwhile, was a universally popular figure on Tyneside and talked up the club amid their march to the Championship title, restoring a sense pride.
Obviously, neither really led to anything substantial but at least there was some sort of hope. Under Bruce, who constantly talked of his "remit" being to keep Newcastle in the division, the club were simply treading water.
Ashley's lack of ambition, of course, played a huge part but Bruce fell out with players, saw his training methods questioned and oversaw some of the worst Newcastle performances in Premier League history, such as the 3-0 loss away at Brighton in March 2021.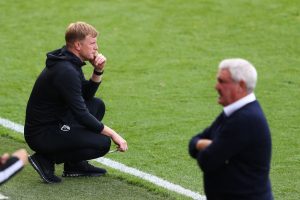 The 61-year-old, however, reflected on his time at St James' Park during an honest interview with The Daily Telegraph and suggested he hoped his work at the club would grow to be held in similar esteem to the one he did at Sunderland. After Bruce's exit in 2011, Newcastle's arch-rivals almost consistently battled relegation before eventually dropping into the third tier as chaos took over.
What did Bruce say about Newcastle?
Now in charge of West Brom of course, Bruce said: "I'm glad I did the job. Look, it ended badly, but for two years we did ok. My job was to keep us in the Premier League, and I did that. It might take a decade, a bit like Sunderland, but I hope one day people can say: "He didn't do too bad in the circumstances, with the owner and everything else… end of."
Does Bruce deserve respect?
It's difficult to imagine October's takeover happening had Bruce's side succumbed to relegation. Still, to champion that achievement during a period in which Newcastle spent £40m on Joelinton, £16m on Allan Saint-Maximin, £20m on Callum Wilson and £22m on Joe Willock seems somewhat disingenuous.
Given the rapid-fire turnaround Howe instilled even before the January transfer window, it's hard to argue against the idea that the tools were there for Bruce to get more out of his team than he ever did.
Staying in the Premier League – as important as it was – should really have been taken as read.