Kieran Trippier has called for patience amid Newcastle United's rebuild. 
What's the latest Newcastle United news?
The last month or so of the transfer window has been a frustrating one for Newcastle.
A loan bid for Armando Broja has been rejected, Jesse Lingard's wage demands proved prohibitive and there is a feeling Everton will not sell Anthony Gordon this summer. Moussa Diaby and Alexander Isak, meanwhile, are reportedly considered too expensive and Hugo Ekitike chose Paris Saint-Germain.
With just a week before the start of the season, it seems unlikely Eddie Howe will be able to field a different front three (Allan Saint-Maximin, Callum Wilson and Miguel Almiron) to the one who started last year's season opener against West Ham.
While its important to keep some perspective (the last two windows have brought the likes of Trippier, Bruno Guimaraes, Nick Pope and Sven Botman to the club), that is undoubtedly frustrating.
What did Trippier say about Newcastle's rebuild?
Speaking to The Daily Mirror, the England international said: "This club, for god knows how many years, has not had the success it could have. With the changes here there is a bright future but we need patience as well. It is a building project.
"Same with Man City years ago. They built the right way and we will too. It would be easy to take over a club like ours and go to top top players. That won't happen. We have to be realistic. It will take a few years. But it is only upwards now.
"I understand what the fans expect and demand. People have to realise the takeover has just happened.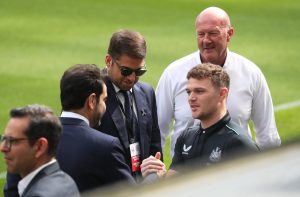 "We just stayed up, well, comfortably in the end, but the position we were in in January…As a player I don't want to get too far ahead. We need to keep building gradually. We know how far the club can go, but we know how demanding this Premier League is. You can't take anything for granted.
"For sure we don't want to be in a relegation fight. Every game is tough. You want to finish top half of course! Minimum? You always want to set the standards high.
"Europe and all that… sometimes you have to be realistic, because the league is so powerful. But step by step we will get there, we just need a bit of patience.
"Every team in this league has spending power and it is the best in the world. Look at the top half and how powerful they are. I understand the fans' expectations but patience and step by step."
Is Trippier right?
Absolutely.
The owners cannot be held to ransom, either by selling clubs or when it comes to player demands. Their current approach might not be the most headline-grabbing at the moment, but that is not what Newcastle need right now.
Guimaraes and Botman represent two potentially game-changing signings. Courted by other top European clubs and with experience in the Champions League at a reasonably young age, they are the type of additions the club could only have dreamed about less than a year ago.
Things are building, it's time to enjoy the ride.